Amalia, Erlia Sholikhatul (2019) The efectiviness of teaching personal letter text by using a Google Docs collaborative writing activity for the eleventh grade students of MAN Demak. Undergraduate (S1) thesis, UIN Walisongo.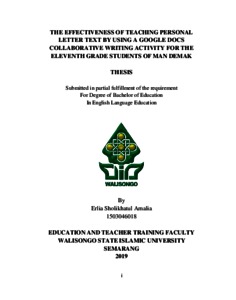 Preview
Text




1503046018.pdf

- Accepted Version
Available under License Creative Commons Attribution Non-commercial No Derivatives.
Download (5MB) | Preview
Abstract
The purpose of the research was to explains the effectiveness of teaching personal letter text by using a Google docs with collaborative writing activity. The population of this research was the students at the eleventh grade of MAN Demak. The subjects of this study were involving 70 tenth grade students that divided into 35 students of experimental class and 35 students of control class. Experimental group was taught by using a Google Docs with collaborative writing activity and control group was taught with collaborative writing activity. The method used in this study was quantitative approach with quasi experimental design. The researcher used Cluster Random Sampling Technique. The instruments used in this study were tests, questionnaires, and observation. Those were calculated and analyzed by using T-test. The result of this study showed there was a difference of mean score between the experimental and control classes. The increasing point of the experimental class was 69.60 to 76.23. Meanwhile, the control class increased from 68.03 to 70. It means that the experimental class has a higher mean score rather than the control class. In accordance with the t-test scored showed that that tcount (2.67) was higher than ttable (1.99). So, it meant Ho was rejected and Ha was
accepted. Based on the result, the researcher concludes that using Google docs collaborative writing activity was effective to teach personal letter text at MAN Demak in the academic year of
2018/2019.
Actions (login required)
Downloads
Downloads per month over past year