Nursodik, Nursodik (2017) Unifikasi kalender Islam global : studi usulan kriteria baru MABIMS dan kriteria Turki 2016. Masters thesis, UIN Walisongo.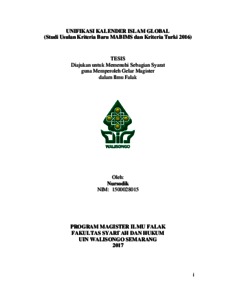 Preview
Text




1500028012_Full.pdf

- Accepted Version
Available under License Creative Commons Attribution Non-commercial No Derivatives.
Download (5MB) | Preview
Abstract
Problem unifikasi kalender Islam global merupakan
problem klasik yang menjadi kajian serius para ahli dan tokoh umat Islam di dunia. Upaya tentang pembentukan kalender Islam yang terpadu (unifikasi) hingga saat ini masih belum mencapai titik temu kesepakatan. Hal ini dikarenakan banyaknya sistem dan kriteria yang menimbulkan perbedaan dalam penentuan awal bulan Kamariah. Maka dari itu, belum adanya titik temu kriteria tunggal menjadi problem yang mendasar dalam pembentukan kalender Islam terpadu, baik lokal maupun global. Dalam penelitian ini, ada dua kriteria yang menjadi objek kajian penelitian yakni Usulan Kriteria Baru MABIMS dan Kriteria Turki 2016. Kedua kriteria tersebut dikaji dan dibahas terkait bagaimana implementasi kedua kriteria tersebut, dan sejauhmana peluang keberlakuan kedua kriteria untuk dijadikan sebagai rujukan kalender Islam Global.
Penelitian ini adalah penelitian kualitatif yang berbentuk
library research dengan menggunakan pendekatan komparatif.
Pengumpulan data dalam penelitian ini dilakukan dengan
metode dokumentasi berupa draft hasil muzakarah MABIMS
yang mengusulkan kriteria Baru MABIMS ketinggian hilal
tidak kurang dari 3 derajat, elongasi 6,4 derajat dan hasil
kongres Turki 2016 yang juga menghasilkan kriteria hisab
global dengan ketinggian hilal minimal 5 derajat dan elongasi 8 derajat dengan syarat ijtimak atau konjungsi di Selandia Baru belum terbit fajar serta daratan amerika sudah Imkān. Data-data yang telah diperoleh kemudian dianalisis dengan metode deskriptif analitik.
Hasil penelitian ini menunjukkan bahwa implementasi
kedua kriteria yang telah dilakukan perbandingan dan
identifikasi data ketinggian Bulan dan elongasi selama 100
tahun pada beberapa kota di Indonesia dan 10 kota di Dunia,
usulan kriteria Baru MABIMS yang memiliki frekuensi nilai
yang lebih besar daripada kriteria Turki. Seperti perbandingan tingkat kesesuaian kriteria Baru MABIMS (KBM) dan Turki 2016 yang diuji dengan beberapa parameter seperti nilai
frekuensi pada parameter selang-seling kriteria KBM total 676
kali (53,1%) dan kriteria Turki total kesesuaiannya 356 kali
(27,97 %). Kemudian dalam rentang tahun 1437-1443 H
terjadinya awal bulan, antara kriteria global Turki dan Kriteria Baru MABIMS terdapat beberapa perbedaan dalam mengawali awal bulannya. Yakni sebesar 66,6 % atau totalnya 54 kali perbedaan (Turki lebih dahulu mengawal bulan baru) dan 27 kali kesamaan atau presentase nya sebesar 33,3 % dari total 81 data. Dari data tersebut menunjukkan bahwa peluang
keberlakuan untuk kriteria hisab global Turki terdapat titik
kelemahan jika diimplementasikan secara riil di Indonesia. Hal ini karena pengaruh matlak global yang banyak mengorbankan prinsip imkān al ru'yah disuatu tempat.
ABSTRACT:
The problem of unification of the global Islamic calendar is a classic problem that becomes a serious study of Muslim scholars and figures in the world. Efforts about the formation of an integrated Islamic calendar (unification). Until now, still has not reached agreement point. Its because many cases of the system and criteria which makes a difference in the early determination of the lunar month. Therefore, The absence of a single point of criterion becomes a fundamental problem in the formation of an integrated Islamic calendar, both local (regional) and global. In this research paper, there are two criteria that become the object of research study, that is Proposed New Criteria MABIMS and Turkey Criterion 2016. Both criteria were reviewed and discussed about how to implement these second criteria, and how far opportunities of enforceability Both criteria to serve as a reference for the Global Islamic calendar.
This study is qualitative research that formed library research with using comparative approach. Data colletions in this study is done by documentation method in the form of draft result of new-MABIMS criteria (moon altitude > 3o, elongation > 6,4o), and Turkey criterion 2016 (moon altitude >5o, elongation >8o) with the requirement conjunction becomes in New Zealand not yet publish (fajr); in mainland American have imkān. The data that have been obtained then analyzed by analytical descriptive method.
The results of this study indicate that the implementation of both criteria has been done comparison and identification of data height of the Moon and elongation for 100 years in several cities in Indonesia and 10 cities in the World. Proposed new MABIMS criteria that have a frequency value greater than the Turkish criterion.Such as the comparison of new-MABIMS and Turkey criteria. Which were tested with several parameters such as frequency values in alternating parameters of the criterion total of 676 times (53.1%) and Turkish total criteria conformity 356 times (27.97%). Then in the year 1437-1443 H the beginning of the month, between the Turkish global criteria and the New-Criteria MABIMS there are some differences in the beginning of the month. Namely 66.6% or total of 54 times the difference (Turkey first escort the new moon) and 27 times the similarity or percentage of 33.3% of the total 81 data. From these data indicate that the probability of enforcement for Turkey's global criteria is a weak point if implemented in real terms in Indonesia. This is because of the influence of global matlak Which sacrifices the principle of imkān al ru'yah somewhere.
Actions (login required)
Downloads
Downloads per month over past year