Arikhah, Arikhah (2016) Reaktualisasi pemikiran Ibn Qayyim al-Jauziyyah dalam pengembangan tasawuf. PhD thesis, UIN Walisongo.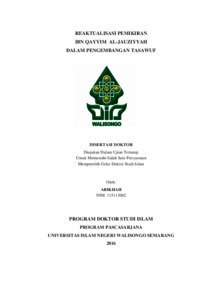 Preview
Text (Disertasi_115113002_Arikhah)




Disertasi_115113002_Arikhah.pdf

- Accepted Version
Available under License Creative Commons Attribution Non-commercial No Derivatives.
Download (13MB) | Preview
Abstract
Tasawuf dianggap sebagai penyebab kehancuran dan kebangkrutan peradaban. Anggapan tersebut didasarkan pada tuduhan bahwa tasawuf mengajarkan pemikiran-pemikiran pantheisme (ajaran yang menyamakan Tuhan dengan kekuatan-kekuatan dan hukum-hukum alam semesta), kultus (pemujaan) pada individu manusia (diantaranya kepada walī), kemabukan dan kegilaan (ekstatisme/syaṭāḥāt), cerita tentang kemampuan-kemampuan suprarasional, pengalaman-pengalaman yang tidak masuk akal dan bid'ah, serta pemikiran sesat lainnya.
Rumusan masalah penelitian ini adalah bagaimana pemikiran tasawwuf Ibn Qayyim? Bagaimana reaktualisasi pemikiran Ibn Qayyim dalam mengembangkan tasawuf? Jenis penelitian ini adalah library research dengan pendekatan kualitatif interpretatif serta menggunakan content analysis. Dalam pemikiran tasawuf, Ibn Qayyim menyerukan ijtihad dalam tasawuf dengan merujuk kembali kepada al-Qur'an dan al-Hadis, memprioritaskan ilmu daripada ibadah sunnah, melakukan ijtihad agar ajaran tasawuf tidak taklid kepada para masyāyikh, melakukan kontekstualisasi ajaran tasawuf sesuai waktu dan tempat (zamān wa makān) agar difahami umat Muslim sepanjang waktu, tidak mengasingkan diri dari kehidupan sosial dan menjadikan rangkaian sālik dalam perjalanan menuju kepada Allah (sair ilāllāh) tidak wajib berurutan (tartīb gair mustaḥiqq), tetapi opsional (mustaḥsan).
Ibn Qayyim melihat Islam membangun konsep kehidupan bertolak dari iman, Islam dan ihsan. Pemikiran Ibn Qayyim tentang makna zuhud, lebih mendorong sebagai usaha-usaha untuk perbaikan hidup manusia, menanamkan sikap positif kepada dunia dan berani menghadapi kenyataan hidup dan tantangan kemajuan zaman. Dalam uzlah, Ibn Qayyim menghendaki suatu penghayatan keagamaan esoteris yang mendalam tetapi dengan tidak melakukan pengasingan diri dari kehidupan sosial, melainkan tetap aktif melibatkan diri dalam masyarakat. Prinsip-prinsip keseimbangan (tawāzun) merupakan sunnatullāh untuk seluruh jagad raya. Oleh karena itu, Ibn Qayyim menganggap bahwa melanggar prinsip keseimbangan merupakan suatu dosa kosmis, sebab melanggar hukum Allah SWT yang menguasai jagad raya. Melalui zikir, Ibn Qayyim menjelaskan bahwa zikir dalam kalimat lengkap dan bermakna maka seseorang lebih terjamin dari segi imannya karena kalimat serupa itu adalah aktif, menegaskan makna dan sikap tertentu yang positif dan baik. Dalam tawakal, Ibn Qayyim mengatakan erat kaitannya dengan rencana dan usaha. Apabila rencana sudah matang, hasilnya diserahkan kepada Allah SWT.
ABSTRACT:
Sufism is considered as the cause of the destruction and the bankruptcy of civilization. The presumption is based on the allegation that sufism teaches thoughts of pantheism (the doctrine that equates God with the forces and laws of the universe), cult (worship) on the human individual (including walī), drunkenness and insanity (ecstasy/syaṭāḥāt), the story of supra-rational abilities, experiences that do not make sense and heresy (bid'ah), and also others misguided thinking.
The research questions are how the idea of Ibn Qayyim's sufism? What is reactualization of Ibn Qayyim's idea in developing Sufism? This research is a library research with interpretative qualitative approach and using content analysis. First, in the sufism thinking, Ibn Qayyim called for ijtihad by returning to al-Qur'an and al-Hadis, giving priority to science ('ilm) than optional praying, doing ijtihad in order that sufism teachings do not imitate (taqlīd) to masyāyikh, doing contextualization for sufism teachings by time and place (zamān wa makān) in order to understanding by Muslim society all time, making self not alienating from social life and making series of sālik in journey to Allah (sair ilāllāh) are not obligation in a series (tartīb gair mustaḥiqq), but recommendable (mustaḥsan).
Ibn Qayyim's thinking about the meaning of the ascetic (zuhd), is more encouraging as the efforts for the improvement of human life, the embodying positive attitude to the world, the courage to face the reality of life and the challenges of the progress of time. In uzlah, Ibn Qayyim wants a deep appreciation of esoteric religious but did not retreat from social life, but remains involved actively in the community. The principle of balance (tawāzun) is the laws for the entire universe. Therefore, Ibn Qayyim considers that the violation of the principle of balance is a cosmic sin, because it is breaking the law of Almighty God who controls the universe. Through zikir, Ibn Qayyim explained that zikir in complete and meaningful sentences is more assured and affirming the meaning and certain positive and good attitude. In tawakal, Ibn Qayyim says closely related to the plans and efforts. If the plan is good, then the results are submitted to Allah SWT.
Actions (login required)
Downloads
Downloads per month over past year