Jannah, Elly Uzlifatul (2017) Kalender Hijriah kriteria 29 dalam tinjauan astronomi dan fikih. Masters thesis, UIN Walisongo.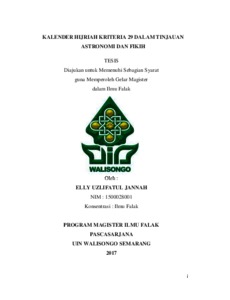 Preview
Text (Tesis_15000280001_Elly_Uzlifatul_Jannaj)




Tesis_15000280001_Elly_Uzlifatul_Jannah_compressed.pdf

- Accepted Version
Available under License Creative Commons Attribution Non-commercial No Derivatives.
Download (5MB) | Preview
Abstract
Kriteria 29 gagasan Hendro Setyanto muncul sebagai sebuah kriteria cara pandang baru dalam penyusunan dan penyatuan kalender Hijriah di Indonesia yang masih begitu kental perbedaan antara corak pemahaman mażhab hisab dan mażhab rukyah. Jika kriteria yang ada selama ini mencoba melakukan pendekatan awal bulan dengan kriteria visibilitas hilal yang kondisi visibilitasnya sangat bergantung terhadap kondisi lokal, maka kriteria 29 hadir dengan pendekatan iklim tropis khas Indonesia. Lingkungan kepulauan di wilayah ekuator Indonesia tentu memiliki perbedaan dalam hal visibilitas dengan lingkungan gurun pasir yang berada di wilayah subtropis Arab Saudi., sehingga upaya untuk menerapkan kriteria visibilitas suatu tempat ke tempat lain tentu memiliki ragam masalah dan kendala yang berbeda-beda.
Berdasarkan latar belakang di atas, pertanyaan pokok yang akan dijawab dalam penelitian ini adalah bagaimana tinjauan Astronomi dan Fikih terhadap kalender Hijriah kriteria 29? Apakah kalender Hijriah kriteria 29 sebagai cara pandang baru dalam penyusunan kalender Islam dapat menjembatani kriteria-kriteria yang selama ini kontradiksi di Indonesia?
Penelitian ini merupakan penelitian kualitatif yang bersifat deskriptif analitis kritis dengan pendekatan ilmiah-cum doktriner atau pendekatan sintesis, yaitu pendekatan yang berusaha menggabungkan antara aspek ilmiah dengan aspek doktrin atau dogma dalam memahami sebuah fenomena. Pendekatan ini digunakan karena persoalan ilmu Falak merupakan persoalan yang disatu sisi berkaitan dengan masalah hukum yang bersifat doktriner antara mażhab hisab maupun mażhab rukyah, sedangkan disisi lain berkaitan erat pula dengan persoalan Astronomi yang bersifat scientific-ilmiah seperti kriteria visibilitas hilal, ketinggian hilal, lebar hilal, dan lain sebagainya. Teknik pengumpulan data menggunakan teknik dokumentasi dan wawancara.
Hasil penelitian menunjukkan bahwa perhitungan mundur kalender Hijriah kriteria 29 secara Astronomis merupakan hisab murni yang bersifat argumentatif dengan perhitungan akurasi tinggi (high accuracy computing method). Berawal dari konsep dasar kriteria 29 dengan menetapkan hari terjadinya ijtimak atau konjungsi sebagai tanggal 29 bulan Hijriah melahirkan data variabel pendukung visibilitas hilal yang logis serta konstan, yang pastinya kondisi visibilitasnya telah disesuaikan dengan kondisi lokal Indonesia yang beriklim tropis. Secara Fikih, kosep dasar kalender Hijriah kriteria 29 dalam penentuan awal bulan kamariah sesuai dengan pandangan jumhur ulama Fikih, adapun perhitungan mundur kalender Hijriah kriteria 29 merupakan salah satu opsi wasīlah untuk mempermudah dan sebagai kalender pengontrol rukyah. Betapapun hisab kalender Hijriah kriteria 29 mendapat posisi yang wajar, rukyah tetap dinyatakan sebagai patokan (al-aṣl). Selanjutnya, perhitungan mundur kalender Hijriah kriteria 29 dianggap sebagai sebuah cara pandang baru dalam penyusunan kalender Hijriah di Indonesia dengan merangkul dua konsep yang selama ini cenderung berseberangan dalam penentuan awal bulannya. Secara deskriptif, menurut pandangan mażhab hisab, perhitungan mundur dengan kriteria 29 ini memberikan kepastian akan keteraturan sistem kalender Hijriah, sedangkan dalam pandangan rukyah, dengan menetapkan tanggal 29 sebagai hari rukyah dengan syarat tampaknya hilal, maka tidak akan terjadi kembali pelaksanaan ru'yat al-hilal yang sia-sia.
ABSTRACT:
Criteria 29, ideas by Hendro Setyanto emerged as a new perspective criterion in the compilation and unification of the Hijri calendar in Indonesia which is still so thick of difference between the pattern of understanding mazhab hisab and mażhab rukyah. If the current criteria tries to approach the beginning of the month with visibility criteria of the hilal whose visibility condition is highly dependent on local conditions, then criterion 29 comes with a typical Indonesian tropical climate approach. The archipelagic environment in the equatorial region of Indonesia certainly has a difference in visibility with the desert environment where located in the subtropical region of Saudi Arabia, so the effort to apply the visibility criteria of a place to another certainly has a variety of different problems and constraints.
Based on the background above, the main question which will be answered in this research is how is Astronomy and Fiqh review toward Hijri calendar criteria 29? Can the Hijri calendar criteria 29 as a new way of composing Islamic calendars bridge the criteria that had been a contradiction in Indonesia?
This research is a qualitative research in descriptive analytical critical with scientific approach-cum doctrinaire or synthesis approach, which try to combine scientific aspect with aspect of doctrine or dogma in understanding a phenomenon. This approach is used because the problem of Falak is a problem on the one side related to the doctrinal issues of law between mażhab hisab and mażhab rukyah, while on the other side is also closely related to scientific Astronomy issues such as visibility criterion of hilal, hilal height, and so forth. Data collection techniques utilized documentation and interview techniques.
The results showed that Hijriah calendar countdown criteria 29 Astronomically is a pure argument which is argumentative with high accuracy computing method. Starting from the basic concept of criteria 29 by determining the day of the occurrence of conjunction as the 29th of the month of Hijriah constructed the variable data supporting the visibility of hilal which is logical and constant, which the visibility condition has been certainly adjusted to the local conditions of Indonesian tropical climate. In Fiqh, the basic concepts of Hijri calendar criterion 29 in the determination of the beginning of the lunar month according to the jumhur view of the juris of Fiqh, while the recalculation of the Hijri calendar criteria 29 is one of the wasīlah option to simplify and controll calendar of rukyah. Regardless of the Hijri Islamic calendar, the criteria 29 gets a reasonable position, the rukyah is still declared as a standard (al-aṣl). Furthermore, the countingdown of the Hijri calendar criteria 29 is a new way perspective of the Hijri calendar in Indonesia by combining two concepts that have tended to be opposite in the early determination of the month. Descriptively, according to the mażhab hisab, the countdown with this criteria 29 provides certainty of the regularity of the Hijri calendar system, while in the rukyah view, by setting the 29th as a day of rukyah on the condition of appearing hilal, it will not happen wasted the implementation of ru'yat al-hilal again.
Actions (login required)
Downloads
Downloads per month over past year