Awaludin, Muhammad (2017) Sistem musim kalender Rowot Sasak perspektif astronomi : studi kasus di Desa Kidang Lombok Tengah. Masters thesis, UIN Walisongo.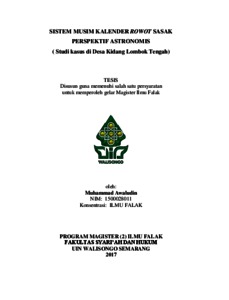 Preview
Text (Tesis_1500028011_Muhammad_Awaludin)




Tesis_1500028011_Muhammad_Awaludin.pdf

- Accepted Version
Available under License Creative Commons Attribution Non-commercial No Derivatives.
Download (5MB) | Preview
Abstract
Kalender Rowot Sasak merupakan salah satu penanggalan tradisi yang digunakan, dipedomani dan dikembangkan oleh masyarakat Sasak sebagai penanda waktu, acuan untuk penyelenggaraan hajat, serta bercocok tanam atau bertani di Pulau Lombok. Selain sebagai penanda waktu, Kalender Rowot Sasak juga digunakan pula sebagai penanda musim. Salah satu masyarakat tradisi yang masih menggunakan penanggalan ini adalah masyarakat di Desa Kidang, Praya Timur, Lombok Tengah. Studi ini dimaksudkan untuk menjawab permasalahan: pertama, Bagaimana penentuan awal musim Kalender Rowot Sasak? kedua, Bagaimana penerapan Kalender Rowot Sasak terkait sistem musim di masyarakat Sasak tradisi Desa Kidang Lombok Tengah?. Permasalahan tersebut dibahas melalui studi lapangan (field research) yang dilaksanakan di Desa Kidang, Praya Timur - Lombok Tengah. Data penelitian ini diperoleh dengan cara observasi, interview, dan studi dokumentasi. Semua data dianalisis dengan pendekatan studi kasus dan analisis deskriptif.
Kajian ini menunjukkan bahwa: pertama, sistem kerja Kalender Rowot Sasak ini dengan cara pengamatan terhadap bintang Pleiades / Rowot yang kemudian dikenal dengan acara Ngandang Rowot. Dari pengamatan ini, kemudian melahirkan pola perhitungan 5 – 15 – 25. Pola tersebut kemudian digunakan juga sebagai penetuan awal musim dalam Kalender Rowot Sasak. Namun, awal musim (mangse) tidak selalu jatuh berbarengan dengan Ngandang Rowot, hal ini disebabkan perhitungan musim (mangse) tidak hanya menggunakan bintang Pleiades / Rowot semata, tetapi juga disesuaikan dengan pengamatan tanda alam, keputusan kiyai dan rapat adat. Kedua, penarapan Kalender Rowot Sasak di masyarakat Desa Kidang sudah berlansung sejak lama. Selain digunakan sebagai penanda awal musim (mangse), Kalender Rowot Sasak juga digunakan sebagai penanda waktu penyelenggaraan gawe (acara hajatan) dan betaletan (berococok tanam). Hal ini sudah dianggap sebagai sebuah khazanah kebudayaan bagi masyarakat dan keakurasian perhitungannya bagi hajat hidup masyarakat desa merupakan alasan mengapa tetap dipertahankan Kalender Rowot Sasak oleh masyarakat Desa Kidang, Praya Timur – lombok Tengah hingga saat ini.
ABSTRACT:
Rowot Sasak calendar is one of the traditional calender that is used and developed by the Sasak community as a time sign, reference for the implementation of intent, as well as farming on Lombok island. Apart from being a time sign, Rowot Sasak Calendar is also used as a season sign. One of the traditional societies that still use this calendar is in Kidang Village, East Praya - Central Lombok. This study is intended to answer the problem: first, How to determine the begining of the season on Rowot Sasak Calendar?, second, How the application of the Rowot Sasak Calender in Sasak tradition comunity of Kidang Village, Central Lombok ? This problem is discussed with field research conducted in Kidang Village, East Praya - Central Lombok. Data of this research were obtained by participant observation, free interview, and documentation. All data were analyzed by approach of case study and descriptive analysis.
This study shows that: first, system of Rowot Sasak Calendar is by observation of Pleiades star / Rowot wich known as Ngandang Rowot. From this observation, then result to the pattern of calculations 5 - 15 – 25. The pattern is also used for determine the begining of season in the Rowot Sasak Calendar. But, the beginning of the season (mangse) does not always come together with Ngandang Rowot, this is because the calculation of the season (mangse) is not only used Pleiades / Rowot stars, but also adapted to the observation of natural signs, kiyai decisions and costum meeting. Second, the application of Rowot Sasak Calendar in Kidang Village community has been going on for a long time. Besides being used as an early season sign (mangse), Rowot Sasak Calendar is also used as a marker of gawe (hajatan) and betaletan (planting) event. This has been regarded as a cultural treasure for the people and the accuracy of the calculation for the livelihood communities is the reason why the Rowot Sasak calendar is maintained by the people of Kidang Village, East Praya - Central Lombok until this time.
Actions (login required)
Downloads
Downloads per month over past year