Arifin, Bani (2018) Pengaruh struktur modal dan pertumbuhan perusahaan terhadap nilai perusahaan dengan profitabilitas sebagai variabel intervening : pada perusahaan yang termasuk dalam ISSI tahun 2015-2017. Masters thesis, UIN Walisongo.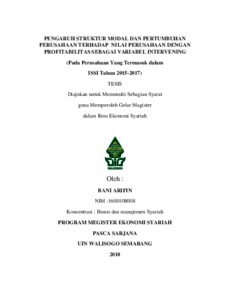 Preview
Text (Tesis_1600108008_Bani_Arifin)




TESIS_1600108008_BANI_ARIFIN.pdf

- Accepted Version
Available under License Creative Commons Attribution Non-commercial No Derivatives.
Download (8MB) | Preview
Abstract
Penelitian ini bertujuan untuk mengetahui Pengaruh Struktur Modal Dan Pertumbuhan Perusahaan Terhadap Nilai Perusahaan Dengan Profitabilitas Sebagai Variabel Intervening (Studi Kasus Perusahaan Yang Termasuk dalam ISSI Tahun 2015-2017) Penelitian ini merupakan penelitian kausalitas dimana terdapat hubungan antara dua variabel atau lebih. Hubungan dalam penelitian ini merupakan hubungan kausal yaitu sebab akibat, dimana ada variabel eksogen (bebas) yaitu variabel yang mempengaruhi variabel endogen (terikat) yaitu variabel yang dipengaruhi. Dalam penelitian ini variabel eksogen adalah Struktur Modal dan Pertumbuhan perusahaan sedangkan variabel endogen adalah Nilai Perusahaan dan Variabel Intervening berupa Profitabilitas Perusahaan. Hasil penelitian menunjukkan bahwa: Pertama Pertumbuhan perusahaan (Growth) berpengaruh negatif signifikan terhadap ROE. Kedua DER berpengaruh positif signifikan terhadap PBV. Ketiga Growth berpengaruh negetif signifikan terhadap PBV. Keempat DER berpengaruh positif signifikan terhadap PBV. Kelima ROE memediasi hubungan antara Growth dengan PBV. Keenam, ROE tidak berhasil memediasi hubungan antara DER dengan PBV.
ABSTRACT:
This study aims to determine the Influence of Capital and Corporate Growth on Company Value With Profitability as Intervening Variable (Case Study of Companies in ISSI Year 2015-2017) This research is a causality study where there is a relationship between one or more variables. Relationship in this research is causal relationship that is cause cause, that is exogenous variable (free) that is variable that make endogen variable (eksplisit) that is different variable. Variables used are Interpretation Variables are Company Value and Intervening Variable in the form of Profitability Company. The results showed that: First Growth of the company (Growth) significant negative to ROE. Both DERs have a significant positive effect on PBV. These three growths have a significant negative effect on PBV. The four DERs have a significant positive effect on PBV. The five ROE mediate the relationship between Growth and PBV. Sixth, ROE did not succeed in mediating the relationship between DER and PBV.
Actions (login required)
Downloads
Downloads per month over past year