Asy'ari, Yusuf (2018) Motivasi orang tua memondokkan anak di Pondok Pesantren Sirojuth Tholibin Brabo Tanggungharjo Grobogan. Masters thesis, UIN Walisongo.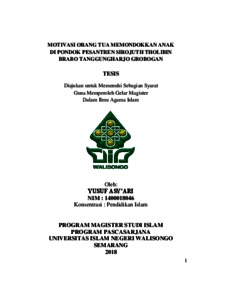 Preview
Text (Tesis_1400018046_Yusuf_Asyari)




TESIS_1400018046_YUSUF_ASYARI.pdf

- Accepted Version
Available under License Creative Commons Attribution Non-commercial No Derivatives.
Download (1MB) | Preview
Abstract
Dewasa ini banyak keluarga yang kembali melirik Pondok-Pesantren sebagai sarana pembinaan moral, karena para orang tua menilai bahwa Pondok Pesantren mampu menjawab berbagai tantangan dan permasalahan pendidikan kontemporer dengan proses pendidikan dan pengajarannya yang lebih terpadu. Studi ini bermaksudkan untuk menjawab permasalahan : Mengapa orang tua termotivasi memondokkan anak di Pondok Pesantren Sirojuth Tholibin? permasalahan dibahas melalui studi lapangan (field research). Teknik penyajian datanya menggunakan wawancara, dokumentasi dan observasi. Data dianalisis dengan pendekatan psikologi dan sosiologi.
Kajian ini menunjukkan bahwa motivasi orang tua memasukkan anak dipondok sangat beragam, namun disederhanakan sesuai tema yaitu : (1) motivasi mendapatkan agama secara komperehensif, (2) motivasi mendidik anak di lingkungan yang kondusif, (3) motivasi lain : biaya pendidikan, mengikuti jejak saudara atau tetangga, dan ketenaran pondok.
ABSTRACT:
Today many families are glancing back at Pondok Pesantren as a means of moral coaching, because parents consider that Islamic boarding schools are able to answer various challenges and problems of contemporary education with a more integrated education and teaching process. This study intends to answer the problem: Why are parents motivated to place children at the Sirojuth Tholibin Islamic Boarding School? problems are discussed through field studies. The data presentation technique uses interviews, documentation and observation. Data were analyzed with psychology and sociology approaches.
This study shows that the motivation of parents to include children is very diverse, but simplified according to the theme, namely: (1) motivation to gain religion comprehensively, (2) motivation to educate children in a conducive environment, (3) other motivations: tuition fees, follow in the footsteps brother or neighbor, and the fame of the cottage.
Actions (login required)
Downloads
Downloads per month over past year