Aedi, Ulul (2018) Ritual merti desa sebagai media dakwah di Desa Tawang Kecamatan Susukan Kabupaten Semarang. Masters thesis, UIN Walisongo.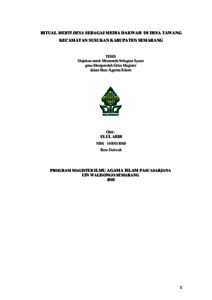 Preview
Text (Tesis_1400018060_Ulul_Aedi)




Tesis_1400018060_Ulul_Aedi.pdf

- Accepted Version
Available under License Creative Commons Attribution Non-commercial No Derivatives.
Download (1MB) | Preview
Abstract
Ritual merti desa adalah salah satu adat masyarakat Indonesia, khususnya masyarakat Jawa. Dibeberapa wialayah ritual merti desa telah mengalami banyak pergeseran baik makna ataupun pelaksanaanya, salah satunya adalah di desa Tawang. Tulisan ini bertujuan untuk mengungkap fungsi ritual merti Tawang desa sebagai media dakwah melalui pesan-pesan yang terkandung di dalamnya. Selain itu tulisan ini juga memaparkan pemahaman masyarakat serta peranan struktur masyarakat Tawang dalam melestarikan ritual merti desa. Jenis penelitian dalam tulisan ini adalah jenis penelitian kualitatif. Jenis paradigma yang digunakan adalah paradigma interpretatif dan metode interaksi simbolik.
Berdasarkan hasil penelitian dalam kegiatan ritual merti desa Tawang mengandung pesan-pesan dakwah dalam rangkaian acaranya. Ritual merti desa menjadi salah satu bentuk media dakwah kultural di desa Tawang. Pelaksanaan ritual merti desa diikuti oleh seluruh lapisan masyarakat Tawang. Namun sebagai motor dari acara ini adalah masyarakat Tawang I-IV yang bahu membahudengan pemerintah dan juga tokoh masyarakat serta tokoh agama di desa Tawang
ABSTRACT:
Ritual merti desa is one of indigenous Indonesian people, especially Javanese society. In some rituals merti desa has undergone many shifts in both meaning and execution, one of which is in Tawang village. This paper aims to reveal the function of ritual merti desa Tawang as a medium of da'wa through the messages contained in it. In addition, this paper also describes the understanding of society as well as the role of the Tawang community structure in preserving ritual merti desa. The type of research in this paper is the type of qualitative research. Type of paradigm used is interpretive paradigm and method of symbolic interaction.
Based on the results of research in ritual merti desa Tawang activities contain messages of da'wah in the series of the show. Ritual merti desa become one of the forms of cultural da'wah media in Tawang village. Implementation of merti desa followed by all levels of Tawang community. But as a motor of this event is the people Tawang I-IV who shoulder membahudengan government and also community leaders and religious leaders in the village Tawang.
Actions (login required)
Downloads
Downloads per month over past year