Amin, Muhammad Faishol (2018) Akuitas mata dalam kriteria visibilitas hilal. Masters thesis, UIN Walisongo.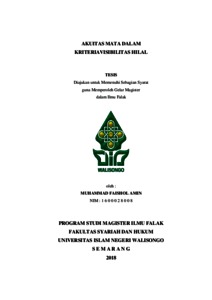 Preview
Text (TESIS_1600028008_MUHAMMAD_FAISHOL_AMIN)




TESIS_1600028008_MUHAMMAD_FAISHOL_AMIN.pdf

- Accepted Version
Available under License Creative Commons Attribution Non-commercial No Derivatives.
Download (4MB) | Preview
Abstract
Tingkat Akuitas (ketajaman) mata manusia dalam melihat sebuah objek berbeda-beda. Hal ini berdampak pada tingkat keberhasilan perukyat dalam rukyatul hilal. Judhistira AU dan Binta menerapkan faktor akuitas ini ke dalam visibilitas hilal Kastner. Faktor tersebut dipakai sebagai klaim atas kasus pengamatan hilal yang tak terbantahkan. Hal ini merupakan corak pemikiran baru, terutama bagi perkembangan pemahaman visibilitas hilal di Indonesia. Dalam penelitian ini penulis ingin mengetahui beberapa hal yaitu: 1) Bagaimana teori akuitas mata dalam visibilitas hilal? 2) Mengapa akuitas mata jarang dipakai dalam perumusan kriteria visibilitas hilal?. Penelitian ini merupakan penelitian kualitatif dengan pendekatan studi kasus. Pengumpulan data diambil dengan teknik dokumentasi, wawancara dan observasi. Sementara untuk analisis data menggunakan metode deskriptif, eksplanatif dan komparatif.
Hasil dalam penelitian ini menunjukkan bahwa: 1) Modifikasi yang dilakukan oleh Judhistira AU dan Binta dalam visibilitas Kastner secara umum telah sesuai dengan ilmu Astronomi dan Fisika Optik, meskipun ada beberapa koreksi yang tidak diterapkan karena keterbatasan alat dan teknologi seperti glare, penglihatan warna, adaptasi gelap terang, bentuk dan durasi melihat. 2) Kriteria visibilitas hilal yang ada selama ini bersifat global dan memang diterapkan untuk tujuan terciptanya kalender global tunggal, namun sayangnya harus mengabaikan faktor-faktor ilmiah seperti akuitas mata, karena secara ilmiah memang tidak ada kriteria yang dapat berlaku secara global. Dengan observasi sederhana penulis juga telah memperoleh kriteria visibilitas hilal untuk akuitas mata normal dalam bentuk parameter fisis (ARCV, ARCL, Umur, Lag Time, Lebar Hilal, dan DAz). Kriteria ini bersifat dinamis dan masih dapat berubah sesuai dengan jumlah data pengamatan, dan secara keilmuan, kriteria ini seharusnya dapat diterima karena telah sesuai dengan beberapa kriteria yang ada.
ABSTRACT
The sharpness level of the human's eye in seeing an object are varies, and will impact on the success rate in observation. Judhistira AU and Binta have modified the Kastner's visibility with eye's acuity factor. This factor is used as a claim for a controversial case of observation. This is a new thinking, especially for the development of understanding of crescent's visibility in Indonesia. In this study the authors research: 1) How the theory of eye's acuity in crescent's visibility applied? 2) Why eye's acuity is rarely used in the formulation criteria of crescent's visibility?. The type of this research is a qualitative research with case study approach. Data were taken with documentation, interview and observation techniques. While for data analysis use descriptive, explanative and comparative method.
The results of this study indicate that: 1) The modifications made by Judhistira AU and Binta in Kastner's visibility are generally consistent with Astronomy and Optical Physics term, although some corrections are not applied due to the limitations of tools and technologies such as glare, color vision, adaptation, object's shape and duration of view. 2) The existing criteria of crescent's visibility is a global criteria, and is applied for the purpose of creating a single global calendar, but unfortunately it ignores scientific factors such as eye's acuity, because there is no criteria that can apply globally. With a simple observation the author has also formulated the crescent's visibility criteria for normal eye's acuity in the form of physical parameters (ARCV, ARCL, Age, Lag Time, Crescent's Width, and DAz). This criterion is dynamic and can still change according to the amount of observational data, and scientifically, this criterion should be acceptable because it is in accordance with several criteria.
Actions (login required)
Downloads
Downloads per month over past year