Burhanuddin, Muhamad (2019) Conflict mapping Piagam Madinah : analisa latar belakang sosiokultural Piagam Madinah. Masters thesis, UIN Walisongo.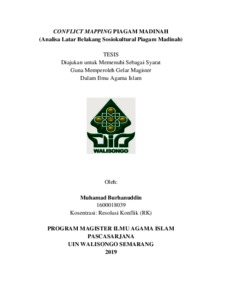 Preview
Text (TESIS_1600018039_MUHAMAD_BURHANUDDIN)




TESIS_1600018039_MUHAMAD_BURHANUDDIN.pdf

- Accepted Version
Available under License Creative Commons Attribution Non-commercial No Derivatives.
Download (4MB) | Preview
Abstract
Piagam Madinah, mampu menyatukan kabilah dan suku-suku yang ada di Madinah (Yastrib) untuk hidup damai, rukun, dan saling melindungi satu dengan yang lainnya. Perdamaian yang ada, tidak lepas dari adanya konflik-konflik yang turut melatarinya. Dari uraian ini, peneliti merumuskan permasalalahan dalam tiga rumusan masalah penelitian ini yaitu 1. Mengapa Piagam Madinah mampu menyatukan kabilah atau suku-suku berbeda melebur menjadi satu? 2. Bagaimana konsep conflict Mapping Piagam Madinah? 3. Apa isu utama dan pendukung terbentuknya Piagam Madinah?. Penelitian ini menggunakan penelitian library reseach (perpustakaan). Adapun metode penelitian menggunakan metode deskripsi analisa kritis.
Hasil penelitian mendapatkan bahwa; Pertama, Piagam Madinah merupakan Piagam perdamaian untuk menyatukan kabilah atau suku-suku yang masih berifat kesukuan dan sering berada dalam konflik sebagaimana kondisi sosiokultur yang telah berlaku di masyarakat. Kedua, coflict mapping Piagam Madinah tidak bisa dilepaskan adanya kondisi dan posisi Muhammad Saw. dan pengikutnya di Makkah. Sehinga erat kaitannya adanya conflict mapping secara intern antar suku, kabilah di Madinah yang memposisikan Muhammad sebagai juru damai secara luas atau universal. Kedua, isu utama dalam Piagam Madinah yaitu keamanaan (safety), kekuasaan (power) sumber daya (resource), untuk mempertahankan keberlangsungan hidup dari jangka pendek dan panjang. Isu pendukung dalam Piagam Madinah meliputi; persatuan umat, penegakan hukum, persatuan muslim, perlindungan umum, perlindungan minoritas, dan kekuasan tertinggi dalam hukum sebagaimana yang tertera dalam pasal-pasal Piagam Madinah.
ABSTRACT:
The Charter of Medina was able to unite of tribes in the Medina (Yastrib) to lived peacefully, pillars, and protect to each others. Peace is not be separated from the presence of conflicts before there. The reseacrher a formulation to tree problems. 1. Why the Charter of Medina was able use to unite the tribers or etnich are fused in to one friday? 2. How is the concept of conflict mapping the Charter of Medina? 3.What is the main issue and supporting issue the formation of Chater of Medina?. This reseacrh use library reseacrh. The Method of this reseach is critical analysis description.

The research results get that are; first the Charter of Medina is a peace charter to unit the tribes that still ethnicity and often be in conflict as sosio-culture condition that has been in force in the community. Second the conflict mapping Charter of Medina could be the existence of the condition a position of Muhammad and his folowers in Mecca. So the presence of closely related conflict mapping intern between tribes, tribes of Medina who positioned Muhammad as universal. Second the main issues in the Medina Charter; safety, power, and resource. The suppoting issues are; unity of the people, rule of law, islamic union, public protection, protection of minorities, and highest power in the law of Medina as stated in the articles of the Charter of Medina.
Actions (login required)
Downloads
Downloads per month over past year