Ayub, Akhmad (2019) Peran KH. Dachlan Salim Zarkasyi dalam pengembangan pembelajaran membaca Al-Qur'an metode Qiroati di Indonesia. Masters thesis, Universitas Islam Negeri Walisongo Semarang.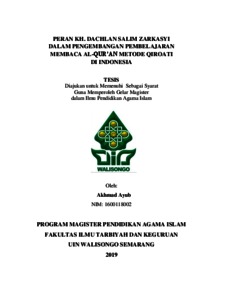 Preview
Text (TESIS_1600118002_AKHMAD_AYUB)




TESIS_1600118002_AKHMAD_AYUB.pdf

- Accepted Version
Available under License Creative Commons Attribution Non-commercial No Derivatives.
Download (4MB) | Preview
Abstract
Dewasa ini tidak sedikit masyarakat yang masih belum bisa membaca Al-Qur'an dengan baik dan benar, hal ini disebabkan kurangnya kesadaran masyarakat untuk mempelajari Al-Qur'an atau dari lingkungan yang kurang mendukung. Studi ini dimaksudkan untuk menjawab permasalahan: Apa Peran KH. Dachlan Salim Zarkasyi dalam Pengembangan Pembelajaran Membaca Al-Qur'an di Indonesia? Permasalahan tersebut dibahas melalui studi tokoh KH. Dachlan Salim Zarkasyi. Data diperoleh dengan cara wawancara bebas dan studi dokumentasi. Semua data dianalisis dengan pendekatan riset naratif dengan metode analisis konten. Kajian ini menunjukkan bahwa KH. Dachlan Salim Zarkasyi mempunyai peran penting dalam pengembangan pembelajaran membaca Al-Qur'an di Indonesia. Melalui metode Qiroati yang ditemukannya dan lembaga TK Al-Qur'an yang didirikannya merupakan lembaga pendidikan (non formal) Al-Qur'an yang pertama kali muncul di Indonesia dan berkembang menjadi TPQ/TPA. Metode Qiroati mempengaruhi munculnya metode membaca Al-Qur'an setelahnya.
ABSTRACT:
Nowdays, few people are still unable to read the Qur'an properly and correctly, this is due to a lack of public awareness to study the Qur'an or from a less supportive environment. This study is intended to answer the problem: What is the Role of KH. Dachlan Salim Zarkasyi in the Development Learning of Reading Al-Qur'an in Indonesia? These problems are discussed through the figures study of KH . Dachlan Salim Zarkasyi. Data obtained by interviews and documentation studies. All data were analyzed using a narrative research approach with content analysis methods. This study shows that KH. Dachlan Salim Zarkasyi has an important role in developing Al-Qur'an reading learning in Indonesia. Through the Qiroati method he discovered and preAlQur'an institution which he founded was an Al-Qur'an educational (non-formal) institution that first appeared in Indonesia and developed into TPQ / TPA. The Qiroati method influenced the emergence of the reading Qur'an method afterwards.
Actions (login required)
Downloads
Downloads per month over past year