Fikri, Mursyid (2019) Telaah kritis gerhana flat earth. Masters thesis, Universitas Islam Negeri Walisongo Semarang.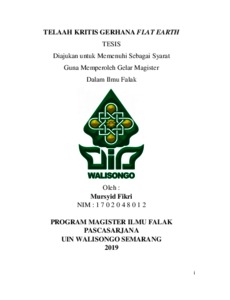 Preview
Text (TESIS_1702048012_MURSYID_FIKRI)




TESIS_1702048012_MURSYID_FIKRI.pdf

- Accepted Version
Available under License Creative Commons Attribution Non-commercial No Derivatives.
Download (5MB) | Preview
Abstract
Di tengah Perkembangan teori sains modern terkait gerhana. teori ini dihadapkan sebuah tantangan baru dengan kemunculan gerakan konspirasi penganut konsep bumi datar (Flat Earth) yang mengkritik berbagai konsep bumi, bulan, matahari dan gerhana sains modern. Mereka beranggapan bahwa Jarak dan ukuran bumi, bulan dan matahari versi sains modern yang telah di ajarkan disekolah-sekolah 500 tahun yang lalu sampai sekarang hanyalah sebuah "asumsi diatas asumsi tanpa bisa di buktikan secara ilmiah". Ketika jarak matahari dan bulan terhadap bumi berbeda dengan sains modern akan berdampak terhadap teori gerhana yang dibangunnya. Dalam penelitian ini penulis ingin mengetahui beberapa hal yaitu: 1) Bagaimanakah Keselarasan Bumi, Bulan, dan Matahari pada kejadian Gerhana dalam teori flat earth ? 2) Bagaimanakah telaah kritis Gerhana flat earth menurut teori kebenaran pragmatis.?.
Jenis penelitian ini yaitu penelitian library research dengan dua pendekatan yakni pendekatan metode kualitatif dan pendekatan sudut pandang filsafat ilmu teori kebenaran. Teknik pengumpulan data dalam penelitian ini menggunakan metode dokumentasi dan wawancara. Analisisnya menggunakan metode induktif berupa kegiatan menghasilkan kategori, klasifikasi, atau tipologi data.
Hasil penelitian ini menunjukkan bahwa: 1) Asumsi dasar kejadian gerhana flat earth adalah alam semesta ini merupakan bagian dari kebesaran kekuasaan Allah yang dimana begitu banyak benda langit yang tidak dapat diketahui kebenaran bentuk dan arah geraknya, sehingga Penganut flat earth mengungkap bahwa kejadian gerhana tersebut bukan hanya diakibatkan karena masuknya bayang-bayang Bulan maupun Bumi sehinggah kenampakan Gerhana dapat dilihat dari pengamat di Bumi. flat earth mengungkap teori bahwa gerhana bukan terjadi karena masuknya bayang-bayang bulan melainkan ada benda langit selestial yang lain yang menutupi matahari. 2) kebenaran argumentasi gerhana flat earth harus mampu dibuktikan dengan verifikasi pragmatis dari berbagai asumsi-asumsi serta eksperimen yang dilakukan, penganut flat earth harus mampu menghasilkan data akurasi prediksi kejadian gerhana yang jelas bukan hanya sekedar menjawab pertanyaan bagaimana dan mengapa melainkan asumsi tersebut mampu menjawab pertanyaan dasar yakni kapan dan dimana sehingga jawaban tersebut dapat diverifikasi.
ABSTRACT:
In the midst of developing modern science theories related to eclipses. this theory is faced with a new challenge with the emergence of a conspiracy movement adhering to the flat earth concept (Flat Earth) which criticizes various concepts of earth, moon, sun and the eclipse of modern science. They assume that the distance and size of the earth, moon and sun the version of modern science that has been taught in schools 500 years ago until now is only an "assumption above the assumption without being scientifically proven." When the distance between the sun and the moon against the earth is different from modern science, it will have an impact on the theory of the eclipse that it built. In this study the author wants to know a number of things, namely: 1) What is the alignment of the Earth, the Moon and the Sun in the event of Eclipses in the theory of flat earth? 2) What is the critical study of eclipse flat earth according to pragmatic truth theory.
This type of research is a library research with two approaches namely the qualitative method approach and the philosophical point of view of truth theory. Data collection techniques in this study using the method of documentation and interviews. The analysis uses the inductive method in the form of activities resulting in the category, classification, or typology of data.
The results of this study indicate that: 1) The basic assumption of the occurrence of eclipse flat earth is that the universe is part of the greatness of Allah's power in which so many celestial bodies cannot know the correct form and direction of motion, so flat earth adherents reveal that the eclipse was not only caused by the entry of the shadows of the Moon and the Earth so that the appearance of the Eclipse can be seen from observers on Earth. flat earth reveals the theory that eclipses do not occur because of the entry of shadows of the moon but there are other celestial celestial bodies that cover the sun. 2) the truth of the argument of eclipse flat earth must be proven by pragmatic verification of various assumptions and experiments carried out, flat earth adherents must be able to produce data on accurate prediction of eclipse events that are not just answering the question how and why but the assumption is able to answer questions the basis is when and where so that the answer can be verified.
Actions (login required)
Downloads
Downloads per month over past year