Kholifah, Iis (2019) Metodologi dan paradigma keilmuan nasionalisme Nahdlatul Ulama. Masters thesis, UIN Walisongo.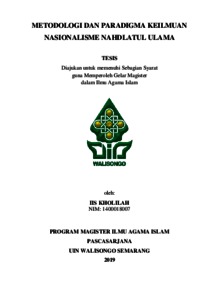 Preview
Text (TESIS_1400018007_IIS_KHOLILAH)




TESIS_1400018007_IIS_KHOLILAH.pdf

- Accepted Version
Available under License Creative Commons Attribution Non-commercial No Derivatives.
Download (4MB) | Preview
Abstract
Sejak tahun 2000-an muncul kembali gerakan Islam transnasional yang mengancam keutuhan NKRI. Dalam hal ini Nahdlatul Ulama (NU) sejak sebelum kemerdekaan hingga kini selalu menjadi garda depan dalam memperjuangkan Pancasila dan keutuhan NKRI. Beberapa riset telah mengkaji tema nasionalisme NU, diantaranya riset yang dilakukan oleh Zudi Setiawan, Tim Himasal, Abdul Chaliq Murad, dan lain-lain. Namun belum ada riset yang mengkaji mengenai metode perumusan hukum dan paradigma (keilmuan?) yang digunakan dalam putusan resmi NU yang mencerminkan sikap nasionalisme NU. Riset ini dimaksudkan untuk menjawab permasalahan: (1) Bagaimana metode yang digunakan dalam merumuskan ijtihad nasionalisme NU? (2) Apa saja ragam paradigma keilmuan yang dijadikan dasar dalam ijtihad nasionalisme NU? Permasalahan tersebut dikaji melalui studi kepustakaan atas dokumen resmi yang dikeluarkan PBNU yang berupa hasil Muktamar, Musyawarah Nasional Alim Ulama, maupun Konferensi Besar NU. Analisis data dalam riset ini menggunakan pendekatan hermeunetika kritis agar dapat diperoleh gambaran mengenai konteks sosio-historis lahirnya putusan NU tersebut.
Telaah dalam riset ini menyimpulkan bahwa terdapat tiga metode istinbat} hukum yang digunakan dalam forum bah}s\u al-masa>'il NU terkait putusan yang bernuansa nasionalis, yaitu Qauli, Ilh}aqi, dan Manhaji. Namun tidak ada metode yang dominan digunakan dalam merumuskan konsep dan sikap nasionalis NU. Di samping itu terdapat dua paradigma (epistemologi) yang digunakan, yaitu paradigma Baya>ni> dan Burha>ni> yang bertumpu pada teks, penalaran rasional serta pengalaman empiris. Selain itu terdapat beberapa hal penting lain yang peneliti temukan, antara lain penjelasan mengenai metode istinbat} hukumnya kurang rinci, posisi kunci Khittah NU 1926, putusan Muktamar NU tahun 1936, putusan penerimaan terhadap Pancasila, dan putusan Muktamar NU tahun 1994 dalam merumuskan konsep dan sikap nasionalis NU, terdapat pengaruh karakteristik politik Sunni pada beberapa sikap nasionalis NU, dan terdapat kecenderungan putusan yang sifatnya progresif. Temuan riset ini berkontribusi dalam bidang keilmuan fikih, yakni dengan menggambarkan dan memperkaya wawasan mengenai keragaman metode perumusan hukum dan paradigma yang digunakan di lingkungan NU dalam merumuskan konsep dan sikap nasionalismenya.
ABSTRACT:
Since 2000s Islamic transnational movement reappearance endanger the unity of the Unitary State of Republic Indonesia. In this case, before the Indonesia's independence until nowdays, Nahdlatul Ulama (NU) already became the avant garde on defending the Pancasila and the unity of the nation. Moreover, several researches focusing on NU's nationalism have been conducted by Zudi Setiawan, Himasal's team, Abdul Chaliq Murad and etc, but there were no one focused on NU's legal formulation and scientific paradigms on their official conclusion toward the concept and practices of nationalism. This research intended to answer (1) how about legal formulation methods by NU in order to formulate their nationalism concept and practices and (2) what are the scientific paradigms have been used by NU as a foundation on their effort to formulate the concept and practices of nationalism. These problems have been examined through literature study toward the official documents released by the Great Administrator of NU (PBNU) in the form of Muktamar, national ulema conferences, and big conference of NU. Consequently, critical hermeneutics has been used as an approach research to gain the socio-historical context descriptions of the NU's official formulation on their nationalism concept and practices.
This research concludes that there are three methods of legal formulation from bah}s\u al-masa>'il forum within NU's circumstances, i.e. Qauli, Ilh}aqi, and Manhaji. But there is no single domination among these methods. Moreover, there are two paradigm/epistemologies operated behind the legal formulation, i.e. Baya>ni> dan Burha>ni, the first laid its reason on text tightly and the former based it reason on rational thinking and empirical facts or experiences. Besides that, there are several important findings according to this research, i.e. most of the legal formulation is lack of deep and comprehensive explanation; the NU 1926's Khittah, the decision of the 1936's Muktamar, the acceptance declaration toward Pancasila, and the decision of the 1994's Muktamar become the key understanding on the formulation of NU's nationalism concept and its attitude; there is an influence from Sunni's political theory on some NU's nationalist attitude; and there is a progressive tendency on some NU's legal decision since the 1980s. According to the finding of this research, it has a contribution to the field of fiqh in the form of enriching and broadening the horizon about the various legal formulation and its paradigms led by NU in order to formulate the concept of nationalism and its attitude.
Actions (login required)
Downloads
Downloads per month over past year