Putra, Muhammad al-Farabi (2019) Algoritma Peter Duffett Smitth dalam hisab awal Bulan Kamariah. Masters thesis, UIN Walisongo.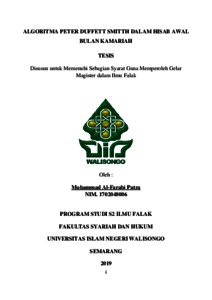 Preview
Text (TESIS_1702048006_MUHAMMAD_ALFARABI_PUTRA)




TESIS_1702048006_MUHAMMAD_ALFARABI_PUTRA.pdf

- Accepted Version
Available under License Creative Commons Attribution Non-commercial No Derivatives.
Download (5MB) | Preview
Abstract
Algoritma Peter Duffett Smitth merupakan sistem perhitungan yang bersifat modern. Data-data yang digunakan merupakan rumus matematik yang akurat. Akan tetapi, algoritma ini tidak secara khusus mengkaji mengenai hisab awal bulan kamariah hanya sebatas pemahaman tentang posisi dan fase-fase bulan saja dan algoritmanya menggunakan program berbasis Excel yang mana saat ini digunakan untuk pengembangan software dan aplikasi falak. Studi ini dimaksudkan untuk menjawab permasalahan: (1) Bagaimana implementasi algoritma Peter duffet Smitth untuk menghitung Awal Bulan Kamariah ? (2) Bagaimana tingkat akurasi algoritma Peter Duffet Smitth dalam hisab awal bulan Kamariah ?
Penelitian ini merupakan penelitian Kualitatif dengan jenis penelitian kepustakaan (Library Reaserch) Teknik pengumpulan data yang digunakan adalah dokumentasi, dan observasi. Sedangkan teknik analisis data yang digunakan deskriktif, verifikatif dan komparatif. Hasil dalam penelitian ini menunjukan bahwa: (1) Implementasi Algortima Peter Duffett Smitth dalam hisab awal bulan kamariah dapat dilakukan, dan untuk mengetahui waktu ijtimaknya adalah dengan menghitung selisih bujur Bulan dengan bujur Matahari. (2) Hasil uji akurasi menunjukan bahwa hasil perhitungan awal bulan kamariah dengan berdasarkan pada algortima Peter Duffett Smitth yang di komparasikan dengan beberapa metode hisab dan software falak terbilang cukup baik, dengan selisih ketinggian hilalnya hanya pada satuan menit saja, dengan selisih minimal 1 menit busur dan maksimal selisih sebesar 19 menit busur. Berdasarkan pada selisih yang kecil tersebut maka Algoritma Peter Duffett Smitth layak untuk dijadikan sebagai salah satu metode untuk menghitung awal bulan kamariah.
ABSTRACT:
The Peter Duffet Smitth algorithm is a modern calculation system. This algorthm's data is an accurate mathematical formula. However, this algorithm does not specifically to calculate beginning of the lunar month but only to the extent of understanding the position and phases of the moon only and the algorithm uses an Excel-based program which is currently used for the development of software and celestial applications. This study is intended to answer the problem: (1) How is the implementation of the Peter duffet Smitth algorithm to calculate Lunar Month's begining ? (2) What is the accuracy of the Peter Duffet Smitth algorithm to calculate Lunar Month's begining ?
This research is a qualitative research with the type of library research, Data collection techniques used are documentation, , and observation. While the data analysis techniques are descriptive, verificative and comparative. The results in this study indicate that: (1) The implementation of Peter Duffett Smitth's Algorithm in the calculatimg Lunar Month's begining can be carried out, and to determine its ijtima time is to calculate the difference in longitude of the Moon in the longitude of the Sun.(2) Accuracy test results show that the results of the calculation of the beginning of the lunar month are based on the Peter Duffett Smitth algorithm which is comparable with several methods of reckoning and spatial software that are fairly good, with only the height of the moon only in minute units, with a minimum of 1 arc minute and maximum difference equal to 19 arc minutes. Based on the small difference, the Peter Duffett Smitth algorithm is recommended to be used as one method to calculate the beginning of the lunar month.
Actions (login required)
Downloads
Downloads per month over past year