Masruhan, Masruhan (2019) Studi komparatif dan verifikatif pemikiran Thomas Djamaluddin dan Slamet Hambali tentang awal waktu salat maghrib kota/kabupaten yang memiliki dataran tinggi. Masters thesis, UIN Walisongo.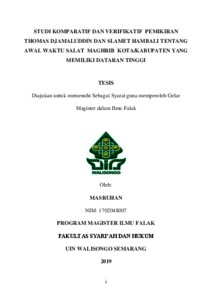 Preview
Text (TESIS_1702048007_MASRUHAN)




TESIS_1702048007_MASRUHAN.pdf

- Accepted Version
Available under License Creative Commons Attribution Non-commercial No Derivatives.
Download (5MB) | Preview
Abstract
Pembahasan jadwal waktu salat Maghrib untuk Kota atau Kabupaten Indonesia memiliki perbedaan pendapat. Perbedaan pendapat terjadi ketika penginputan nilai ketinggian tempat untuk daerah tinggi dalam perhitungan waktu salat Maghrib sebagai acuan masyarakat kota atau kabupaten di Indonesia. Dalam kajian tersebut kedua tokoh Thomas Djamaluddin dan Slamet Hambali memberikan pendapat yang bertolak belakang mengenai awal waktu salat Maghrib Kota atau Kabupaten yang memilki dataran tinggi.
Tujuan penelitian ini adalah untuk mengetahui kedua metode hisab awal waktu salat oleh Thomas Djamaluddin dan Slamet Hambali serta mengetahui implementasinya dalam kota atau kabupaten yang memilki dataran yang tinggi. Penelitian ini termasuk jenis library research . Data primer yang digunakan adalah wawancara langsung kepada kedua tokoh yaitu Thomas Djamaluddin dan Slamet Hambali dan hasil observasi Matahari tenggelam. Data sekunder berupa dokumen-dokumen yang berkenaan dengan awal waktu salat. Proses analisis menggunakan deskriptif, eksperimen, serta komparatif.
Penelitian ini menghasilkan 2 temuan: Pertama, konsep hisab awal waktu salat Maghrib Thomas Djamaluddin dan Slamet Hambali memiliki perbedaan dalam penentuan ketinggian Matahari di mana Thomas Djamaluddin menggunanakan rumus (90+50/60) dan berbeda dengan Slamet Hambali yang menggunakan rumus ho= - (ku+ ref+ sd), dimana Thomas Djamaluddin tidak menginput nilai ketinggian tempat, sedangkan Slamet Hambali menginput ketinggian tempat dalam rumus kerendahan ufuk (ku). Kedua, hasil hisab waktu salat Maghrib Thomas Djamaluddin dan Slamet Hambali memilki hasil waktu Maghrib ketika input ketinggian yaitu 33 mdpl. Dan hasil hisab waktu salat Maghrib Thomas Djamaluddin lebih cepat yaitu di atas 33 mdpl. Sedangkan perbedaan hasil mencapai 1 menit yaitu ketika ketinggian 201 mdpl. Hasil observasi menunjukkan matahari tenggelam lebih lambat ketika di tempat yang lebih tinggi daripada tempat yang rendah.
ABSTRACT:
Discussion of the schedule of Maghrib prayer times for Indonesian Cities or Districts has different opinions. Differences of opinion occur when inputting place height values for high areas in calculating Maghrib prayer times as a reference for urban or regency communities in Indonesia. In the study both leaders Thomas Djamaluddin and Slamet Hambali gave conflicting views on the schedule of Maghrib City or Regency highland prayer times.
The purpose of this study was to determine the two concepts of early reckoning during prayer by Thomas Djamaluddin and Slamet Hambali as well as knowing their implementation in cities or districts that have high plains. This research includes the type of field research. The primary data used was direct interviews with the two figures namely Thomas Djamaluddin and Slamet Hambali and the observations of the Sun sank. Secondary data in the form of documents relating to the beginning of the time of prayer. The analysis process uses descriptive, experimental, and comparative.
This study produced 2 findings: First, the concept of the initial reckoning of Maghrib prayer Thomas Djamaluddin and Slamet Hambali had differences in the determination of the height of the Sun where Thomas Djamaluddin used the formula (90 + 50/60) and different from Slamet Hambali who used the formula ho = - (ku + ref + sd), where Thomas Djamaluddin did not input place height values, while Slamet Hambali inputted place heights in the formula of the horizon (ku) low. Second, the results of the reckoning of the Maghrib prayer times Thomas Djamaluddin and Slamet Hambali have the results of Maghrib time when input height is 33 masl. And the results of the reckoning of Thomas Djamaluddin's Maghrib prayer time are faster, above 33 masl. While the difference in results reaches 1 minute, namely when the height is 201 masl. Observations show that the sun sets slower when the sink is higher than the low one.
Actions (login required)
Downloads
Downloads per month over past year