Al-Kumayi, Sulaiman (2013) Konsep sufisme 'shakhs-i manevi dan hizmet' Muhammad Fethullah Gülen. Ulumuna: Jurnal Studi Keislaman, 17 (2). pp. 359-385. ISSN 1411-3457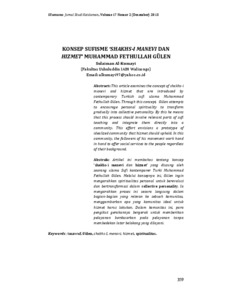 Preview
Text




Sulaiman-Konsep_Sufisme_Gulen.pdf

- Published Version
Download (372kB) | Preview
Abstract
This article examines the concept of shakhs-i
manevi and hizmet that are introduced by
contemporary Turkish sufi ulama Muhammad
Fethullah Gülen. Through this concept, Gülen attempts
to encourage personal spirituality to transform
gradually into collective personality. By this he means
that this process should involve relevant parts of sufi
teaching and integrate them directly into a
community. This effort envisions a prototype of
idealized community that hizmet should uphold. In this
community, the followers of his movement work hand
in hand to offer social services to the people regardless
of their background.
ABSTRAK:
Artikel ini membahas tentang konsep
'shakhs-i manevi dan hizmet' yang diusung oleh
seorang ulama Sufi kontemporer Turki Muhammad
Fethullah Gülen. Melalui konsepnya ini, Gülen ingin
mengarahkan spiritualitas personal untuk berevolusi
dan bertransformasi dalam collective personality. Ia
mengarahkan proses ini secara langsung dalam
bagian-bagian yang relevan ke sebuah komunitas,
menggambarkan apa yang komunitas ideal untuk
hizmet harus lakukan. Dalam komunitas ini, para
pengikut gerakannya bergerak untuk memberikan
pelayanan berdasarkan pada pelayanan tanpa
membedekan latar belakang yang dilayani.
Actions (login required)
Downloads
Downloads per month over past year