Hidayanti, Ema (2012) Dimensi psiko-spiritual dalam praktik konseling bagi penderita HIV/AIDS di klinik Voluntary Counselling Test (VCT) rumah sakit Panti Wiloso Citarum Semarang. Research report (Laporan penelitian). LP2M IAIN Walisongo, Semarang.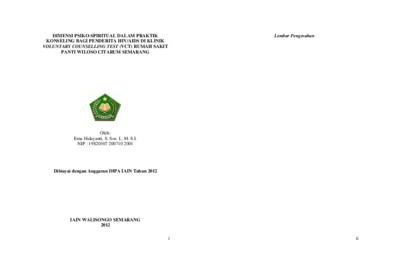 Preview
Text




Ema_Hidayanti-HIV_Konseling.pdf

- Submitted Version
Download (454kB) | Preview
Abstract
Individuals with HIV/AIDS require therapy with biopsikososiospiritual approach, meaning that patients must be viewed in terms of organobiologik, psychological / psychiatric, psycho-social and spiritual aspects / spirituality. Patients are not viewed as individuals alone, but one member of a family, community and social environment, as well as being in a state of helplessness which requires the fulfillment of spiritual needs / spirituality or religion. Fulfillment of spiritual needs were all-important contribution in the course of life for people with HIV/AIDS. Research results of Woods (1999) from University of Miami, show that patients actively running religious worship has the percentage of CD4 + and CD4 + (helper-inducer T-cells) increases, which means that the immune system running well.
The purposes of this research are 1). To describe the spiritual response of people with HIV AIDS in the VCT clinic Panti Wiloso Citarum Semarang; 2). To describe the implementation of HIV counseling for people with AIDS at the VCT clinic Panti Wiloso Citarum Semarang; 3) To describe the spiritual dimension in the practice of counseling for people with HIV AIDS in the VCT clinic Panti Wiloso Citarum Semarang. Required data in the study will be obtained from the primary data sources include documents Panti Wiloso VCT, VCT counselors and clients Wiloso Panti. While the secondary data obtained from the literature related to research themes. Data collection techniques used were the documentation and interviews. While the analysis of research data using the model of Miles and Huberman analysis is divided into three phases: data reduction, data display and Conclusion drawing or verification.
The results of this study were: 1). Spiritual response to AIDS in HIV VCT clinic Wiloso Citarum Semarang Panti showed mixed responses, both positive and negative views of the following seven aspects of faith and meaning in life, or supervising authority, experience and emotion, friendship and community, ritual and worship, encouragement and growth , as well as call and consequences; 2). Implementation of HIV counseling for people with AIDS in the VCT clinic Panti Wiloso Citarum Semarang can be seen from the following aspects: a). Counselors made up of four people who have been trained counselors HIV / AIDS according to WHO standards are implemented by the Directorate General of Communicable Disease and Environmental Health; b). Clients who have dealt with 69 people. Most of the sex offender, and the other is commercial sek workers, transvestites, homosexuality, IUD, housewives and children, c). This type of counseling services, among others, pre-post-tests, family counseling, ongoing counseling, adherence counseling and counseling to face death; d). There are two models of VCT services are integrated with health care services and the range of community services. While the counseling methods used are either direct methods such as individual counseling or a group such as group counseling and peer groups; e). Evaluation system used to use inter-counselor supervision and external evaluation by direct interview techniques; 3). Spiritual dimension in the practice of counseling for people with HIV / AIDS is a vertical emphasis on the human relationship with God and horizontal aspects of the human relationship with each other.
Actions (login required)
Downloads
Downloads per month over past year