Putri, Hasna Tuddar (2013) Pemikiran Syekh Abbas Kutakarang tentang Hisab Penentuan Awal Bulan Hijriah. Masters thesis, IAIN Walisongo.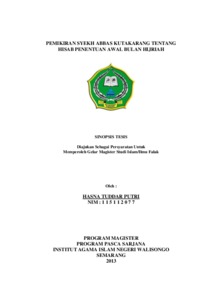 Preview
Text




Hasna_Tuddar_Putri_Tesis_Sinopsis.pdf

- Accepted Version
Download (1MB) | Preview
Abstract
Perkembangan keilmuan falak merupakan buah karya atas kembalinya para ulama ke Indonesia dari Makkah maupun Timur Tengah. Mulai saat itu lahir beberapa tokoh falak dengan karyanya dengan model perhitungan yang bermacam-macam dan terus berkembang hingga sekarang. Salah satu ulama Aceh yang masih dikenal adalah Syekh Abbas Kutakarang. Ia terkenal sebagai ahli astronomi maupun astrologi di dunia Melayu. Karya Syekh Abbas Kutakarang yang fenomenal adalah kitab Tāj al-Mulūk, di dalamnya terdapat konsep hisab urfi yang unik dan berbeda dengan hisab aboge dalam penentuan awal bulan Hijriah. Selama ini hisab urfi seperti aboge hanya dikenal di Jawa. Faktanya, Syekh Abbas Kutakarang juga menggunakan hisab seperti sistem aboge tetapi dengan konsep yang berbeda. Ia juga menggunakan kaidah ilmu falak tidak hanya untuk keperluan ibadah, melainkan untuk menghitung hari baik dan buruk, untuk pertanian dan menghitung musim. Berangkat dari hal tersebut, maka penulis ingin menelusuri bagaimana latar belakang, tipologi, dan kontribusi pemikiran Syekh Abbas Kutakarang tentang hisab penentuan awal bulan Hijriah.
Penelitian ini menggunakan historical approach. Penulis menggunakan penelitian jenis library research untuk mengumpulkan data tentang pemikiran Syekh Abbas Kutakarang dengan karyanya Tāj al-Mulūk yang terkait dengan hisab penentuan awal bulan Hijriah sebagai sumber primer. Dengan metode content analysis, penulis menganalisis pemikiran Syekh Abbas Kutakarang berdasarkan latar belakang internal dan eksternalnya. Metode komparasi penulis gunakan untuk membandingkan pemikiran Syekh Abbas Kutakarang tentang hisab penentuan awal bulan Hijriah dengan hisab urfi sistem aboge.
Pada masa Syekh Abbas Kutakarang, penggunaan ilmu falak umumnya bersifat fiqh oriented, akan tetapi Syekh Abbas Kutakarang mempunyai paradigma yang berbeda dalam penggunaan kaidah ilmu falak. Pemikirannya berakulturasi dengan kebudayaan masyarakat Aceh yang berkembang pada waktu itu, misalnya dalam hal penggunaan kaidah falakiyah untuk memprediksikan hari, bulan, dan jam yang baik dalam melaksanakan seluruh ritual kegiatan, baik yang berhubungan dengan ibadah dan kegiatan sehari-hari seperti bertani, dan menentukan hari pernikahan. Oleh karena itu, pemikiran Syekh Abbas Kutakarang dalam kajian ilmu falak tergolong dalam etnomatematik oriented yaitu kajian yang menghubungkan antara matematika dan budaya dalam penggunaan kaidah falak. Kajian falak dalam kitab Tāj al-Mulūk tergolong pada periode awal, di mana ilmu falak masih bercampur dengan ilmu lain, artinya ilmu falak belum berdiri sendiri sebagai suatu disiplin ilmu. Kontribusi pemikiran Syekh Abbas Kutakarang dalam penentuan awal bulan Hijriah berupa konsep yang berbeda yang dapat menambah kekayaan khazanah ilmu falak khususnya sistem hisab urfi. Secara umum kontribusi pemikiran Syekh Abbas Kutakarang terhadap kajian ilmu falak dalam definisi sains masih tergolong minim, karena dalam kitab Tāj al-Mulūk hanya terdapat kajian tentang penentuan awal bulan Hijriah. Meskipun pemikirannya tentang awal bulan Hijriah masih etnomatematik oriented, namun pemikiran Syekh Abbas Kutakarang merupakan embrio ilmu falak di Aceh. Kitab Taj al-Mulūk adalah arus penanda bagi perkembangan ilmu falak selanjutnya di Aceh.
ABSTRACK
The development of the Islamic astronomy is the work of the scholars return from Makkah to Indonesia and the Middle East. From that point were born some of the figures in his work with the model calculations diverse and continues to grow until now. One of which is still known scholars of Aceh was Shekh Abbas Kutakarang. He is the best known as an expert in the world of astronomy and astrology Malay. The work of Syekh Abbas is a phenomenal book Taj al-Mulūk, in which there is a unique concept of hisāb urfi different with hisāb aboge in the initial determination of the Hijri month. All the time, hisāb urfi like Aboge only known in Java. In fact, Syekh Abbas Kutakarang also use it but with a different concept. He also uses the rules of astronomy not only for worship, but to calculate the good and bad days, to agriculture and counting season. Departing from this, the authors wanted to explore how background, typology, and the contribution of Syekh Abbas Kutakarang thinking about computation preliminary determination Hijri month. This study uses a historical approach. The author uses research type of library research to collect data about the thought of Shaykh Abbas Kutakarang with his Taj al-Muluk. With content analysis, the authors analyzed the thought of Syekh Abbas Kutakarang based on internal and external background. Comparative method I use to compare Sheikh Abbas Kutakarang thinking about reckoning with the initial determination of the Hijri month of reckoning urfi Aboge system. This study produce that At the time of Syekh Abbas Kutakarang, the use of Islamic astronomy generally is oriented fiqh, but Syekh Abbas Kutakarang have a different paradigm in the use of the rules of Islamic astronomy. His thoughts acculturated with Acehnese culture that developed at that time. Therefore, Syekh Abbas Kutakarang thinking in the study of Islamic astronomy is classified to etnomatematik oriented. Syekh Abbas Kutakarang thoughtful contributions in the initial determination of a Hijri month is a different concept (the leap year lies in 2, 5 and 7) that can add to the legacy of Islamic astronomy in hisāb urfi.
Actions (login required)
Downloads
Downloads per month over past year