AlFarisi, Salman (2013) Analisis Metode Penetapan Awal Bulan Kamariah Perspektif Empat Mazhab. Masters thesis, IAIN Walisongo.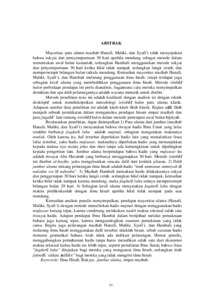 Preview
Text




SalmanAlFarisi_Tesis_Abstrak.pdf

- Accepted Version
Download (65kB) | Preview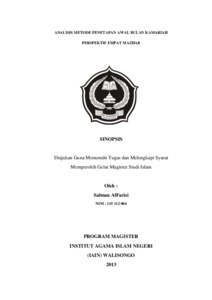 Preview
Text




SalmanAlFarisi_Tesis_Sinopsis.pdf

- Accepted Version
Download (1MB) | Preview
Abstract
Mayoritas para ulama mazhab Hanafi, Maliki, dan Syafi'i telah menyepakati bahwa rukyat dan pemyempurnaan 30 hari apabila mendung sebagai metode dalam menentukan awal bulan kamariah, sedangkan Hambali menggunakan metode rukyat dan penyempurnaan 30 hari ketika hilal tidak nampak sedangkan langit cerah, dan mempersempit bilangan bulan tatkala mendung. Kemudian mayoritas mazhab Hanafi, Maliki, Syafi'i, dan Hambali melarang penggunaan ilmu hisab, tetapi terdapat juga sebagian kecil ulama yang membolehkan penggunaan ilmu hisab. Metode itinbāṭ hukm perbedaan pendapat ini perlu dianalisis, bagaimana cara mereka menyimpulkan demikian dan apa dalil pelarangannya adalah wacana menarik untuk diteliti.
Metode penelitian tesis ini adalah kualitatif dengan analisis isi dengan teknik deskriptif untuk mendiskripsikan metodologi istinbāṭ hukm para ulama klasik. Adapaun sumber data penelitian ini adalah kitab-kitab fikih klasik. Kajian uṣūl fikih menjadi sebuah pendekatan dalam menganalisa pendapat Imam empat mazhab dan para fuqahā' lain tentang istinbāṭ hukm dalam metode penetapan awal bulan hijriyah.
Berdasarkan penelitian, dapat disimpulkan:1) Para ulama dari jumhur (mazhab Hanafi, Maliki, dan Syafi'i) menyatakan bahwa riwayat hadis Ibnu Umar yang lafaz terakhir berbunyi faqdurū lahu adalah mujmal, sebagian mengatakan maknanya mutlak. Oleh karena itu, hal tersebut diperlukan hadis lain yang menafsirkan frasa lafaz tersebut, yaitu hadis mufassar, maksudnya diperlukan hadis yang menunjukkan kepada makna nya secara jelas dan rinci tanpa ada kemungkinan untuk dipalingkan kepada pengertian lain. Jumhur ulama berpendapat bahwa hadis yang mufassar itu adalah riwayat Abu Hurairah yang berbunyi menggenapkan 30 hari. Metode istinbāṭ ini disebut al-bayān, yaitu mengeluarkan sesuatu dalil dari ketidak jelasan. 2) Dalil jumhur ulama tentang pelarangan ilmu hisab adalah hadis "innā ummatun ummiyah lā naktubu wa lā nahsubu". 3) Mazhab Hambali memaknai hadis dilakukannya rukyat dan penggenapan 30 hari ketika langit cerah, sedangkan hilal tidak nampak, kemudian ketika hilal tidak nampak karena mendung, maka faqdurū lahu artinya mempersempit bilangan bulan 29 hari. 4) Sebagian kecil ulama menyatakan faqdurū lahu dengan makna prediksikanlah dengan ilmu hisab apabila hilal tidak nampak pada saat mendung.
Kemudian analisis penulis menyimpulkan, pendapat mayoritas ulama (Hanafi, Maliki, Syafi'i) dengan metode menafsirkan hadis mujmal dengan menggunakan hadis mufassar kurang tepat, karena cenderung melakukan naskh makna tekstual salah satu riwayat hadis. Adapun pendapat Ibnu Hambal dalam berijtihad melalui pemaknaan bahasa juga kurang tepat, karena menganalogikan susunan pemaknaan yang tidak sama. Begitu juga pelarangan mazhab Hanafi, Maliki, Syafi'i, dan Hambali yang melarang ilmu hisab menggunakan dalil tersebut tidaklah benar, sebab susunan hadis menurut gramatikal bahasa Arab tidak ada indikasi pelarangan. Hemat penulis, menggabungkan pemahaman hadis tanpa harus menafikan salah satu dari eksistensi makna tekstual kedua hadis itu lebih tepat, seperti penafsiran Ibnu Suraij bahwa frasa "faqdurū lahu" ditujukan bagi mereka yang menguasai ilmu hisab, sedangkan titah fakmilū 'iddata ṡalāsīn" bagi mereka yang tidak mengerti ilmu hisab.
ABSTRACT
The majority of the scholars of the Hanafi school, Maliki, and Shafi'i have agreed that rukyat and completion of 30 days if cloudy as a method of determining the beginning of lunar month, while Hambali rukyat and refinement using 30 days when the moon is not visible while the sky was clear, and narrowed the number months when overcast. Then the majority of the Hanafi school, Maliki, Shafi'i, and Hanbali prohibit the use of arithmetic, but there is also a small portion scholars who allow the use of arithmetic. Istinbāṭ method hukm this disagreement needs to be analyzed, how they conclude and what arguments such prohibition is interesting to study discourse.
This thesis is a study method of qualitative content analysis with descriptive techniques to describe the methodology istinbāṭ hukm classical religion scholars. Adapaun data source of this study is the classical fiqh books. Jurisprudence proposal to study an approach for analyzing the opinion of Imam four schools and the jurists' about istinbāṭ hukm in the early determination method hijriyah.
Based on research, it can be concluded: 1) The scholars of jumhur (Hanafi school, Maliki, and Shafi'i) stated that the history of the hadith of Ibn Umar who reads " faqdurū lahu" last lafaz of hadith is mujmal, some say it means absolute. Therefore, it is necessary another tradition that interprets the phrase lafaz, namely mufassar hadith, hadith means necessary to show his meaning clearly and in detail without the possibility turned to the other senses. Jumhur scholars argue that it is mufassar hadith narrated by Abu Hurairah that reads fulfill 30 days. Istinbāṭ method is called al-bayān, which took something out of obscurity 'argument. 2) Evidence jumhur scholars of hadith prohibition arithmetic is "Inna ummatun ummiyah naktubu wa la la nahsubu". 3) interpret the Hambali school of hadith does rukyat and fulfillment of 30 days when the sky is clear, while the moon is not visible, then when the new moon was not visible because of overcast, then it means narrowing the number faqdurū lahu months 29 days. 4) The few states faqdurū lahu with meaning calculate with astronomy science if the moon is not visible on a cloudy day.
Then analysis the authors conclude, the opinion of the majority of scholars (Hanafi, Maliki, Shafi'i) the method of interpreting hadith mufassar mujmal using less precise, as it tends to do naskh textual meaning one hadith history. As for the opinion of Ibn Hanbal in ijtihad meaning through language is also less precise, because the composition of the analogies are not the same meaning. So is the prohibition of the Hanafi school, Maliki, Shafi'i, and Hanbali which prohibit arithmetic using the theorem is not true, because the composition of the Arabic grammatical tradition under no indication ban. Opinion of the writer, combining understanding of tradition without having to deny the existence of either of these two hadith textual meaning it is more appropriate, such as Ibn Suraij interpretation that the phrase "faqdurū lahu" is intended for those who master the science of computation, while the word "fakmilū 'iddata ṡalāsīn "for those who do not understand arithmetic.
Actions (login required)
Downloads
Downloads per month over past year