Arifin, Miftahul (2015) Aqidah values in syi'iran of "Jamaah Shalawat Nariyah Walisongo" in Moncek Timur village Lenteng Sumenep. Undergraduate (S1) thesis, Universitas Islam Negeri Walisongo Semarang.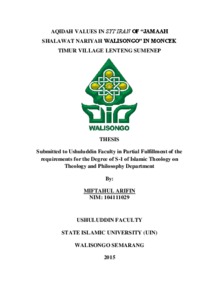 Preview
Text




104111029.pdf

- Accepted Version
Download (4MB) | Preview
Abstract
Syi'iran is a part of famous culture in the Islamic society and also in Moncek Timur society that join to "Jamaah Shalawat Nariyah Walisongo". Not only as a meaning to deliver any good idea and good suggestion, Syi'iran as meaning to deliver any Islamic doctrines also. Syi'iran has ever had a great era as Religion protelytizing when Wali Songo come to Java island. And now, that tradition is still continued by kyai or Islamic teacher in Islamic dormitory especially for society that has an Ahlûssûnnâh Wâljâmââh concept religion. Syi'iran has been around in muslim life and kept by them to be daily life, is like they always do Syi'iran before praying together di any mosques. "Jamaah Shalawat Nariyah Walisongo" is the religion community in Moncek Timur Lenteng Sumenep that has a purpose of their gathering that is reading the syi'ir which has any values of Islamic teaching.
"Jamaah Shalawat Nariyah Walisongo" has uniqueness thing on that community. That is, this community is found by ex-Thief in Moncek Timur village he got instruction from KH. Hasan, who still near with K. HR. As'ad Syamsul Arifin Situbondo. And the members of this community majority, is Thieves that has low in awareness religion. With joining this community, they hope can less their bad activity. On reading syi'ir and shalawat in this community is followed by music rhythm and we know that music can waken the emotion in heart of mankind and can bring human to do with morality too.
This focus research is the belief values in Shalawat Nariyah Walisongo which has 41 verses on Syi'iran. Researcher uses description analytic methode for viewing the belief values one by one of that Syi'iran. The belief values of syi'ir, is discussed and combined with any references that related with point Islamic belief. Beside that, Syi'iran is researching from literature aspect also. The research use poem theory that including researchs a verse, row, rhyme and word choice.
The outcome of this research shows that some Syi'iran in "Jamaah Shalawat Nariyah Walisongo" has great belief contents that not only based on Al Quran and Hadis, but based on human logic also. Belief aspect of this Syi'iran including believe in Allah, the books, the messangers and the Judgement Day or here after. The aspect on this Syi'iran including ethics, dhikir, praying, suggestion and nation. The form of Syi'iran in "Jamaah Shalawat Nariyah Walisongo" is : a). Verse an Row. Syi'iran of "Jamaah Shalawat Nariyah Walisongo" has 41 verses that some syi'ir number in uneven and some are exactly. b). Rhyme. It's including ending rhyme, deep rhyme, form rhyme and perfect rhyme. While the word choice that used denotation and connotation symbol.
Actions (login required)
Downloads
Downloads per month over past year