Abas, Muhammad Saidul (2015) Ahl al-Sunnah wa al-Jamā'ah interpretation on Sūrah Al-Ikhlāṣ (a comparative study on al-Ṭabarī and al-Suyūṭī). Undergraduate (S1) thesis, universitas Islam Negeri Walisongo Semarang.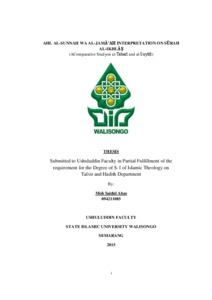 Preview
Text (SKRIPSI_094211085_MOH_SAIDUL_ABAS)




094211085.pdf

- Accepted Version
Available under License Creative Commons Attribution Non-commercial No Derivatives.
Download (2MB) | Preview
Abstract
The fundamental issue of every religion is about divinity. Because divinity is the central point of any religion, then the value of this divinity will be reflected strengths and weaknesses of each religion. Divinity is one of the most sensitive in religious communities. There are many divinity concepts in this world. From many divinity concept, divinity concept of Islam is the last divinity concept which revealed by God. The concepts of God are described in the Qur'an.
The purpose of this study is to determine the meaning of divinity that exists in the Islamic religion. Divinity understanding in this study is using the idea of al-Ṭabari and al-Suyūṭi in theological matters on Sūrah al-Ikhlāṣ. Their interpretation of divinity is using taḥlili method with refers to the hadīths of Rasūlullah. They included the asbabunnuzul of this Sūrah that consists of two versions. This method is used in order to express their interpretation is not far-rangingfrom the message intended by that verse. Their interpretation refers to a variety of opinions and track historyin order to get the understanding of the meaning of each verse.Their interpretation that includes all the history that explains the meaning of each verse in Sūrah al-Ikhlāṣ with discipline and knowledge they have. They included different history although from one source. So that scientific honesty is still they hold.
The results of the comparison that led to an understanding that a God should be One, stand alone and be a dependent, do not have children, and has different value with His creatures. The essence of their opinions is to purify God from characters that are not worth pinned Him. Stand-alone according to their means with no holes or weaknesses, do not eat and drink and the Lord of the Lord. What they think about God, is impressed to jabariyah because Allah has absolute power of the creatures. So anything that humans need to be is depending on Him, the meaning istheir need depending on His power.
There are relevance between al-Ṭabari and al-Suyūṭi interpretation on Sūrah al-Ikhlāṣ with Ahl al-sunnah wa al-jamā'ah theological concept. Interpretation of word Aḥad is known as Tauḥīd Rubūbiyah on Ahl al-sunnah wa al-jamā'ah. Interpretation of aṣ-Ṣamad, has close connection with Tauḥīd Ulūhiyyah in Ahl al sunnah wa al jamā'ah divinity concept. al-Ṭabarī and al-Suyūṭī interpretation on forth verse of Sūrah al-Ikhlāṣ with no one who equal with Allah although in small thing appropriate with Tauḥīd Ṣifātiyah in divinity concept of Ahl al-sunnah wa al-jamā'ah.
Actions (login required)
Downloads
Downloads per month over past year