Analisis Pemikiran Syeikh Muhammad Tahir Jalaluddin al-Minangkabawi tentang Penentuan Waktu Salat dalam Kitab Pati Kiraan dan Akurasinya
Muslifah, Siti (2012) Analisis Pemikiran Syeikh Muhammad Tahir Jalaluddin al-Minangkabawi tentang Penentuan Waktu Salat dalam Kitab Pati Kiraan dan Akurasinya. Masters thesis, IAIN Walisongo.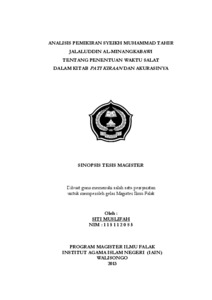 Preview
Text




Muslifah_Tesis_Sinopsis.pdf

- Accepted Version
Download (353kB) | Preview
Abstract
Salat merupakan kewajiban yang telah ditentukan waktunya dalam Islam. Batasan mengenai waktu-waktu tersebut telah ditentukan dalam al-Qur'an dan Hadis. Keberagaman karya falak terutama penentuan waktu salat banyak memberikan corak dan warna baru dalam khazanah keilmuan, termasuk di dalamnya kitab Pati Kiraan karya Syeikh Tahir Jalaluddin al-Minangkabawi yang merupakan ahli falak pertama yang memperkenalkan hitungan dan metode modern. Meskipun demikian, hasil perhitungan Pati Kiraan berbeda dengan yang dipakai saat ini, padahal sama-sama memakai kaidah matematika modern. Perbedaan inilah yang menimbulkan pertanyaan, apalagi penentuan waktu salat yang dipakai Kemenag RI mengacu pada perhitungan Sa'adoeddin Djambek sebagaimana dalam perhitungan awal bulannya. Selain itu, Sa'adoeddin Djambek dalam bukunya menyatakan bahwa perhitungan waktu salat yang dipakai mengikuti yang diajarkan oleh gurunya, Tahir Jalaluddin. Hal inilah yang melatarbelakangi penulis mengkaji pemikiran Syeikh Muhammad Tahir Jalaluddin tentang penentuan waktu salat dalam kitab Pati Kiraan dan akurasinya.
Metode yang dipakai dalam penelitian ini adalah library reseach dengan teknik dokumentasi yang dilakukan terhadap kitab Pati Kiraan sebagai sumber primer, serta sumber sekunder berupa tulisan dan penelitian yang berhubungan dengan Syeikh Tahir Jalaluddin dan pemikirannya, juga sumber lain yang memiliki konsep perhitungan waktu salat dengan trigonometri bola. Metode deskriptif-analitik dipakai untuk menganalis data yaitu dengan mendeskripsikan pemikiran Syeikh Tahir dengan apa adanya, selanjutnya dianalisis menggunakan pendekatan arithmatic dan astronomi. Tinjauan sosio-historis juga digunakan untuk melacak proses terbentuknya pola pemikiran Syeikh Tahir dengan melihat kondisi sosial pada zamannya. Selanjutnya hasil hisab akan dibandingkan dengan metode kontemporer untuk mengetahui akurasinya.
Dari hasil kajian dapat disimpulkan bahwa pemikiran Syeikh Tahir tentang penentuan waktu salat dalam kitab Pati Kiraan banyak dipengaruhi oleh pemikiran guru-gurunya seperti terlihat pada penggunaan tabel logaritma sebagai media hitung, juga pengenalan kaidah astronomi dalam mengartikan perjalanan benda langit. Ia merupakan pembaharu yang mudah menerima kemajuan Sains Eropa, sehingga dikenal sebagai ahli falak pertama yang memperkenalkan hitungan dan metode modern. Terlihat pada penggunaan alat dan ilmu-ilmu navigasi yang dipakai untuk memperbarui data falak yang ada pada masanya. Ia juga mengenalkan konsep koreksi dalam menentukan tinggi Matahari waktu salat dan menggunakan rumus perhitungan dengan konsep spherical trigonometry.
Penentuan waktu salat dalam kitab Pati Kiraan masih kurang tepat. Hal ini karena terpengaruh pada waktu Zuhur yang dikoreksi dengan menit Soekatan Masa yang ditetapkan oleh Syeikh Tahir (sebelum tahun 1964). Apabila waktu Soekatan Masa ini diubah pada koreksi bujur daerah (kwd) 105o maka penentuan waktu salat Syeikh Tahir akan menghasilkan data yang akurat dan out put yang dihasilkan dapat diaplikasikan dalam konteks hisab waktu salat saat ini.
ABSTRACT
Salat is an obligation that timed in Islam. times restrictions is specified in the Qur'an and Hadith. The diversity of the work of astronomy, especially the timing of prayers provide new hues in the realm of science, including the Pati Kiraan works Sheikh Tahir Jalaluddin al-Minangkabawi which is the first astronomer who introduced the matter and modern methods. Nevertheless, the calculation of Pati Kiraan different from that used today, even though both using modern mathematical rules. It is this difference which begs the question, especially prayer timed is used religious ministry refers to the calculation of Sa'adoeddin Djambek as the beginning month calculation. Moreover, Sa'adoeddin Djambek in his claim that the prayer time calculations followed the calculation taught by his teacher, Tahir Jalaluddin. This is what lies behind the author examines Sheikh Muhammad Tahir Jalaluddin thinking about the timing of prayers in the pati kiraan and its accuracy.
The method used in this reseach is library reseach done on the Pati Kiraan as primary sources, and secondary sources in the form of writing and research related to Sheikh Tahir Jalaluddin and his thought, other sources also have a concept of prayer time calculation with spherical trigonometry. Descriptive-analytic methods and content analysis to analyze the data that is used to describe Sheikh Tahir thought to what it is, then analyzed using the approach arithmatic and astronomy. Overview of the socio-historical process is also used to track the formation of Tahir Sheikh mindset by looking at the social conditions of his time. Further results will be compared with the computation of contemporary methods to determine its accuracy.
From the results of the research it can be concluded that the Sheikh Tahir thinking about prayer timings in the Pati Kiraan are influenced by the thought of the teachers as shown in the table of logarithms as media usage count, also the introduction of rules to interpret astronomical celestial journey. He is a reformer who readily accept the European Science advances, also known as the first astronomer who introduced the matter and modern methods. It seen in the use of tools and navigational sciences data is used to update the existing astronomy in his time. He also introduced the concept of a correction in determining high of sun in the prayer times and using the formula calculation with spherical Trigonometry concepts.
The timing of prayers in the pati kiraan is still not quite right. This is because affected at Zuhur is corrected with Soekatan Masa specified by Sheikh Tahir (prior to 1964). If Soekatan Masa is modified on the longitude correction area (kwd) 105o, then Sheikh Tahir's prayer timings will produce accurate data and the resulting output can be applied in the context of computation time of prayer at this time.
Actions (login required)
Downloads
Downloads per month over past year