Afdlila, Milatul (2015) The moral values of social dialect in Hamlet movie. Undergraduate (S1) thesis, Universitas Islam Negeri Walisongo Semarang.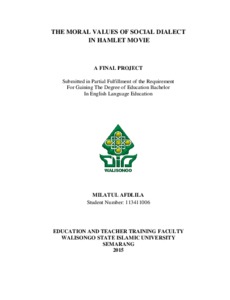 Preview
Text




113411006.pdf

- Accepted Version
Download (2MB) | Preview
Abstract
In English Language Education, film or movie is populer entertainment an film is an effective instrument to present new values. The values especially educational values are needed in this era for educational critics and as educational motivation to be better. Because education is one of important things in human life.
The objective of this study was to know the moral values found in the movie and to find the use of Hamlet movie as medium of education. In This study used qualitative approach. There were five steps to collecting data, such as reading, watching, identifying the transcript, selecting and classifying. After collecting data the writer looked for some references to support the problem analysis found in the story, such as article, books, and journals. Technique of data analysis in this study using philology, because this research needed script of Hamlet to identify the social dialect aspect are used until the moral values found.
The result of the analysis showed that there were twelve moral values, as follows: respect, responsibility, honesty, wisdom courage, tolerence, altruism, justice, self-discipline, help each other, cooperation, and democratic. The last is implication moral values for education are Hamlet as educational medium in PPD class, material of learning, and expression in daily life of the movie.
Actions (login required)
Downloads
Downloads per month over past year