Adamy, Ahmad Yusuful (2016) Hadits on Aisya marriage (hermeneutical hadits approach of Khaled Abou el-Fadl). Undergraduate (S1) thesis, UIN Walisongo.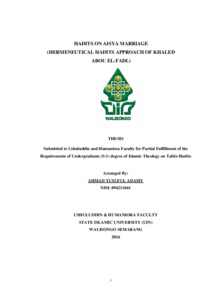 Preview
Text




094211041.pdf

- Accepted Version
Download (2MB) | Preview
Abstract
Two main sources of Islamic teachings, Quran and Hadits also can not be separated from the process of transmission. Various theories to understand Hadits has been formulated by the scholars for gaining what called as divine of will. Quran has certain status competance, but, hadits is defferent matter. Some times hadits, as the second source of muslim guidance, has some problem to be aplied in other social and moral structure. As hadist relatong to aisya marriage. Most of the orientalists consider it as an abnormality on Muhammad. But for some who considers it as doctrine, that information is considered as a privilege of Aisya but become a guidance of a doctrine to be executed even more to limit other people right. It become problem to find the gods will, how ever hadist has been kind of history also guidence. To test the authenticity of the text, historical critic is realy need to approve. While, knowing the vision of the text also needed in order to be wise in live.
Aboul Fadl has formulated the theory for aproaching that covers both historical and to determine the will of divine. Hadits relating to aisyah marriage was a part of prophet mision to save muslim. While, marrying Aisya ist not considered as problem if the man knows the social stucture of arab at that time. It has not big impact to tease the consciousness in arab structere. It has differen matter in now days. In islam, tanking about religion is talking about humanity and to be wise based on god endores. So, Mariage in islam is talking readyness to humanize and wise based ond god endores. Not talking about age.
Actions (login required)
Downloads
Downloads per month over past year