Akyas, Mohamad (2018) Susanne M. Hoffmann discourse on observing the moon. Undergraduate (S1) thesis, UIN Walisongo.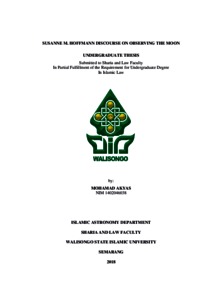 Preview
Text




1402046038.pdf

- Accepted Version
Available under License Creative Commons Attribution Non-commercial No Derivatives.
Download (2MB) | Preview
Abstract
The process of observing the moon becomes one of the important things to do. Especially in the process determining from the beginning of month kamariyah or often referred as rukyatul hilal. Where is a challenge for the observers to see a very thin moon, moreover with weather conditions that are not always bright? In addition, observing the moon at the time of eclipse can increase the faith in understanding the signs and power of Allah SWT. With regard to the presence of Susanne M. Hoffmann at Islamic Astronomy Master Program Walisongo State Islamic University, the author is very interested in examining her thoughts about observing the moon. Susanne M. Hoffmann is an expert astronomist in the history of science, physics, and didactics. She expressed the bad condition of the sky and the air in Semarang. In addition, Susanne M. Hoffmann also suggested repeating Al-Biruni observation.

This study aims to find out Susanne M. Hoffmann discourse related observing the moon and to know her suggestion to repeat Al-Biruni observation on measuring the distance between two cities. This research includes for qualitative research and includes the type of library research. Primary data is taken from in-depth interviews and documentation of Susanne M. Hoffmann's writings, works, and photographs. While the secondary data obtained from the documentation of books, journals, and articles of others work related to research. Meanwhile, to study of Susanne M. Hoffmann discourse author uses descriptive analysis method.
The results show, that Susanne M. Hofmann discourse in observing the moon is divided into two lines. First, in response to the poor condition of the sky and air in Indonesia, or Semarang in particular, Susanne M. Hoffmann still recommends doing rukyatul hilal. Furthermore, rukyatul hilal is best to do with the naked eye than using a telescope or optical instrument. Second, about the lunar eclipse, in accordance with the field, she mastered the history of Science. Susanne M. Hoffmann was succeeding to repeat the Al-Biruni observation in measuring the distance of two cities by the lunar eclipse.
Actions (login required)
Downloads
Downloads per month over past year