Nugrahaeni, Nadea Lathifah (2018) An analysis of crime act and punishment of sexual gratification : on fiqih jinayah and positive law perspective. Undergraduate (S1) thesis, UIN Walisongo.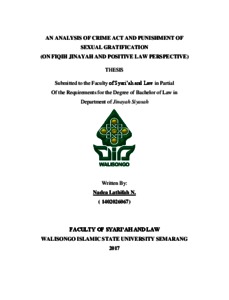 Preview
Text




1402026067.pdf

- Submitted Version
Available under License Creative Commons Attribution Non-commercial No Derivatives.
Download (2MB) | Preview
Abstract
One of the new practices of corruption which is lively discussed lately is sexual gratification or the offering of sexual services. There are many cases, which showed us about sexual gratification. Moreover, there is no express provision in criminal law on sex gratification. It has became a blind spot for legal punishment. Because of that, it should be regulated by law as soon as possible.
Seeing the phenomena of sexual gratification, many people asked the government's rule. Is it regulated clearly? or even what is the position of sexual gratification in the national criminal law. Beside that, what is the position of sexual gratification based on fiqih jinayah perspective as the principle of Islamic law. Consiously, according to Islamic law, sexual gratification is not a simple jinayah..
Therefore, the writer is encouraged to analyse the law of sexual gratification on positive law and fiqih jinayah perspective. Type of research applied in this study is qualitative and its method of collecting data is library research, not only that, but also a normative legal research as it appears from the haziness norms on sexual gratification in the legislation governing corruption in Indonesia. Thus, the approach applied in this research is statute approach, case approach, comparative approach, and conceptual approach.
The final research concludes and finds that law No. 31 of 1999 as amended by Law No. 20 of 2001 on Eradication of Corruption. Exactly in Article 12 B, still occurs pertaining about sexual gratification, this article only stipulates types of gratuities including a gift of money, goods, rebate (discount), commissions, interest-free loans, travel tickets, lodging, travel, free medical treatment, and other facilities. Based on fiqih jinayah, gratification has double crimes, there are: Risywah and zina. That has explained in Alquran and hadist abouth the punishments. The law enforcers may use the methods of interpretation in dealing with the cases of sexual gratification occurred, namely, by extensive interpretation method, historical interpretation method, comparative and futuristic interpretation methods.Seeing the phenomena of sexual gratification, the people question the government's rule. According to the writer truly need to discuss again about sexual gratification and decide about special article to reach fairness of law.
Actions (login required)
Downloads
Downloads per month over past year