Albab, Muhammad Ulul (2018) Application of Ibn Hazm's textual method in the Hadith on working woman. Undergraduate (S1) thesis, Universitas Islam Negeri Walisongo Semarang.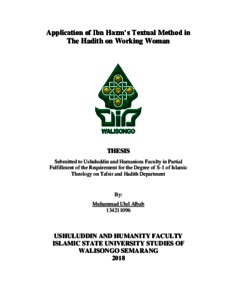 Preview
Text (SKRIPSI_134211096_MUHAMMAD_ULUL_ALBAB)




134211096.pdf

- Accepted Version
Available under License Creative Commons Attribution Non-commercial No Derivatives.
Download (4MB) | Preview
Abstract
In view of the public, women and men are equal, i.e. as a leader on Earth (Khalifah Fīl 'Arḍi). But from the mental strength and certainly very different in raring to go in her every day. Moreover, the question of employment, will certainly be discovered limitations to women as well as men not to pass it.
The Hadith of Prophet Muhammad about working women still be good discussion to review in comprehensive understanding. In addition, there is the permission for women to work as well as men, and also there is the hadith that doesn't recommend women to work out of the House. It was interesting that became current in the discussions of the Hadith to be interpreted with different theories and history. Because the Hadith of Prophet Muhammad naturally occurring a chronology of the Hadith in which the Prophet time allow working women or forbid women to work. Thus, the existence of two understanding between permit by banning issues of working women is certainly becoming a problem that should be known to be or whether. This research presents textual interpretation with a socio historical view related to the problem of working women in Islam era or before coming Islam. So that, in this textual interpretation is not merely what is said of the text. However, also see the history of who have been justified at the time of the Prophet related to the working women. Although there is some hadith that doesn't recommended on working women, in fact from Islam since before Islam there are many women doing some work.
Actions (login required)
Downloads
Downloads per month over past year