Parmudi, Mochamad (2017) Perilaku politik Bung Hatta : sebuah telaah etika politik. Research report (Laporan penelitian). Fakultas Ilmu Sosial dan Ilmu Politik UIN Walisongo, Semarang. (Submitted)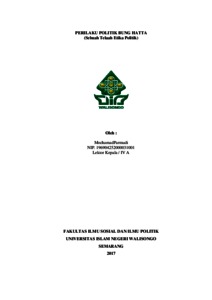 Preview
Text




Parmudi_Bung_Hatta.pdf


Available under License Creative Commons Attribution Non-commercial No Derivatives.
Download (1MB) | Preview
Abstract
In the framework of scientific development at the Faculty of Social and Political Sciences UIN Walisongo Semarang, since the academic year 2015/2016 has opened the subject of Political Ethics which is aimed to give the reinforcement of the special interests of the students. In the 2015/2016 academic year's academic year, I was given the task of teaching Pancasila Education courses, among others, with the subject of Pancasila as the source of the Indonesian Political Ethics. This research is to strengthen the scientific paradigm of UIN Walisongo, namely science (wahdatul-ulum / unity of sciences), with the humanization strategy of Islamic sciences, the spiritualization of modern sciences, and the revitalization of local wisdom, will also facilitate the development of scholarship knowledge) to improve a humane, and civilized life.
It started with a pretty strong academic anxiety in me. This study intentionally chose the study of Bung Hatta character is titled "Bung Hatta Political Behavior" (A Political Ethics Review). Especially when the present condition is filled with exemplary poverty of an ascetic leader who is able to position himself as a mirror of society. "Emergency political ethics" today makes the presence of "drowsy" Bung Hatta very missed.
This study is a phenomenological study focused on the analysis of description and explanation of Bung Hatta's Political Behavior in the study of political ethics. This research uses qualitative method because the phenomenon studied is socio-political phenomenon. Therefore,a phenomenological approach is used in interpreting "meaning" data. Phenomenological approach to the study of data in the form of appearance. Phenomenology shows the process of "being" and the ability to see visible forms (phenomena) gradually toward the correct object's knowledge (meaning) being targeted. This is actually a descriptive analysis of the essence or ideal structure of the symptoms seen in theory.
The result of this research is that Bung Hatta's political behavior has left the example of political asceticism based on the principle of honesty, simplicity, noble and wise, coupled with actions favoring the people's welfare. Political Ethics want the appearance of political behavior at the level of moral values or social ethics to realize the general meaning in the house of life in order to knit togetherness in the nation and state.
Actions (login required)
Downloads
Downloads per month over past year