Rohman, M. Minanur (2017) Ayat-ayat jihad dalam perspektif tafsir isyari : studi pemikiran al-Qusyairi dalam Lataif al-Isyarat. Masters thesis, UIN Walisongo.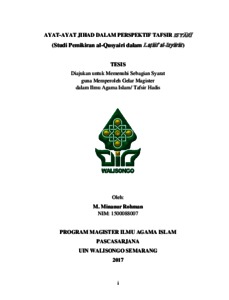 Preview
Text (Tesis_1500088007)




Tesis_1500088007_M_Minanur_Rohman.pdf

- Accepted Version
Available under License Creative Commons Attribution Non-commercial No Derivatives.
Download (4MB) | Preview
Abstract
Hakikat jihad sebagai doktrin untuk menciptakan tatanan moral sosial yang adil dan egaliter seringkali tidak terwujud karena terjebak pada pembacaan al-Quran yang tekstual dan terkesan kaku. Kesenjangan ini melahirkan perilaku yang terkesan anarkis, tidak toleran dan cenderung destruktif. Karenanya, untuk menumbuhkan penafsiran ayat-ayat jihad yang kontekstual, dinamis dan menyejukkan, dibutuhkan upaya deradikalisasi. Salah satunya dengan mensosialisasikan literatur keagamaan yang mendukung semangat tersebut. Kaum sufi merupakan salah satu kelompok yang mengartikulasikan penafsiran ayat-ayat jihad damai. Berdasar latar belakang tersebut, tulisan ini berupaya untuk mengangkat penafsiran al-Qusyairi tentang ayat-ayat jihad dalam Lat}a>if al-Isya>ra>t. Melalui metode defkriptis analitis yang bertumpu pada analisis isi (content analysis), penulis mengungkapkan bagaimana substansi dan metode penafsiran tentang ayat-ayat jihad dalam Lat}a>if al-Isya>ra>t, serta signifikansinya bagi upaya deradikalisasi pemaknaan teks keagamaan di Indonesia saat ini.
Pandangan al-Qusyairi terhadap jihad dapat disimpulkan dalam dua poin yaitu makna jihad damai dan makna jihad bersenjata. Jika dilihat dari metode penafsirannya, maka pendapat al-Qusyairi dapat diklasifikasikan kepada ijma>li<. Jika dilihat dari corak penafsirannya, maka al-Qusyairi lebih condong pada corak sufi. Jika ditinjau dari sumber penafsirannya, maka lebih condong pada bil-isya>ri< dengan tetap menggunakan bi al-ma'tsu>r dan bi al-ro'yi. Dengan kata lain pembacaan al-Qusyairi ini menggunakan epistemologi irfa>ni> yang berlandaskan pada epistemologi baya>ni>. Signifikansi ayat-ayat jihad dalam Lat}a>if al-Isya>ra>t dapat dilihat dari aspek metode dan substansi. Dari aspek metode, pemaknaan al-Qusyairi menjadi penting karena telah menawarkan model pemaknaan yang terbuka, kontekstual, solutif dan tidak satu arah. Dari aspek substansi, pemaknaan al-Qusyairi terhadap ayat-ayat jihad memperlihatkan bahwa jihad bukanlah sesuatu yang bersifat revolusioner dan radikal. Pemaknaan begitu penting untuk memberitahukan kepada masyarakat bahwa jihad itu tidak semata bermakna perang dan kekerasan.
ABSTRACT:
The essence of jihad as the doctrine to create moral social order which is fair and egalitarian often does not materialize because of a stuck on the reading of the Koran that is textual and rigid. This gap emerges behavior that is impressed anarchy, intolerant, and prone to be destructive. Therefore, to foster the interpretation of the contextual jihad verses, dynamic and soothing, it needs de-radicalism efforts by disseminating religious literature that supports its spirit. Sufism is one of the group which articulates the interpretation of jihad verses. Based on the background, this research tries to raise the interpretation of al-Qusyairi about jihad verses in the Lat}a>if al-Isya>ra>t. Through content analyctical method, the writer reveals how the substance and the method of interpretation about jihad verses in the Lathaif al-Qital and their significance for the definition of de-radicalism effort of religious texts in Indonesia at the moment.
The view of al-Qusyairi against jihad can be concluded into two points. Those are peaceful jihad and armed jihad. If it is viewed from the method of interpretation, the opinion of al-Qusyairi can be classified to ijmali. If it is seen from the pattern of its interpretation, leans more on the pattern of the sufism. If it is viewed from the source of interpretation, it leans more on bi al-Isyari with fixed using bi al-Ma'tsur and bi al-Ro'yi. In other words, al-Qusyairi's model uses epistemology of irfani based on epistemology of bayani. The significance of jihad verses in the lathaif al-Isyarat can be seen from the aspect of method and substance. From the aspects of the method, the view of al-Qusyairi becomes important because it has offered an open meaning model, contextual, possible solution, and not one direction. From the aspect of substance, al-Qusyairi's view against jihad verses that jihad are not both revolutionary and radical. The view is quite important to inform the public that the jihad is not only war and violence.
Actions (login required)
Downloads
Downloads per month over past year