Ahsan, Robingul (2016) English-Indonesian translation of idiomatic expressions in Pirates of the Caribbean: the Dead Man's Chest movie Script. Undergraduate (S1) thesis, Universitas Islam Negeri Walisongo Semarang.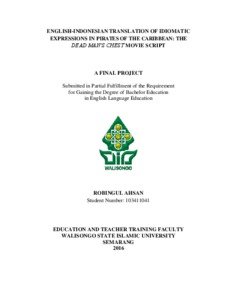 Preview
Text




103411041.pdf

- Accepted Version
Download (3MB) | Preview
Abstract
This thesis is a study of idiomatic expression translation in the movie entitled 'Pirates of the Caribbean: the Dead man's Chest ', describing the types of idiom found in the movie script, and the strategies used by the translator in translating those idioms. The collected data of this study were analyzed through descriptive qualitative method using theories on A Course of Modern Linguistic, book of Charles Hocket, and In Other Words, book of Mona Baker. They were analyzed by using these steps: classifying idiom from the movie script by drawing tables and pictures based on types and the strategies of translation found in the movie, explaining both the types and strategies of translation used by the translator.
The result shows from 95 of idiomatic expressions found in the movie consist of six types, they are substitutes (3,15%), proper name(3,15%), abbreviation (1,05%), figure of speech (26,3%), English phrasal compound (43,1%) and slang (23,1%). The result shows the translator used from four strategies in the movie are translation by using an idiom of similiar meaning and form(4,2%), translation by using an idiom of similiar meaning but dissimiliar form(21,7%), translation by paraphrase(73,7%), and translation by omission(1,05%).
It can be assumed that paraphrasing can be appropriate when there is no corresponding target language. The use of the strategy itself can influence meanings within the text. Even though the message of the text has been paraphrased, generally the meanings have reached the complete meaning. The high degree of complete meaning implies that the translator succeeds in transferring the meaning of the idiomatic expressions.
Based on result of this research, I suggest that the students of English Language Education Department should learn about idiom as good as possible not only from magazines, television but also literary work, such as movie script because there are many idioms in the dialogue.
Actions (login required)
Downloads
Downloads per month over past year