Azis, Pradita Marlia (2016) The influence of think-talk-write (TTW) strategy toward students' writing skill on recount text : an experimental research at the eighth grade of SMP Muhammadiyah 7 Yogyakarta in the academic year of 2015/2016. Undergraduate (S1) thesis, Universitas Islam Negeri Walisongo Semarang.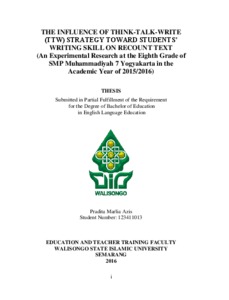 Preview
Text




123411013.pdf

- Accepted Version
Download (10MB) | Preview
Abstract
The background of the study was the students of eighth grade SMP Muhammadiyah 7 Semarang have the problem to understand their English learning especially in writing. They were lack of vocabulary. Their comprehension can be recognized through their way of writing.
The population of the research was the eighth grade students of SMP Muhammadiyah 7 Yogyakarta. The research method was an experimental research, which conducted in two classes; the experimental group (VIII B) and control group (VIII F) as sample. The VIII B was taught by using Think-Talk-Write, while the VIII F was taught with conventional method. The formula that was used to analyze the data was t-test. It was used to determine whether there was significant different between students' score in experimental and control class or not.
After collecting the data, it was found that the pre-test average score in experimental class was 63.10 and control class was 60.75. Meanwhile, the post-test average score of in experimental class was 76.34 and control class was 71.58. It was obtained that t-test was 2.883 and the t-table was 2.01 for (α) 5%. The t-test was higher than t-table (2.883>2.003) It means that Ha was accepted and Ho was rejected.
Based on the result, the researcher concluded that Think-Talk-Write as a teaching strategy influenced in teaching writing recount text at SMP Muhammadiyah 7 Yogyakarta in the academic Year of 2015/2016.
Actions (login required)
Downloads
Downloads per month over past year