Azmi, Millah (2018) The effectiveness of using monopoly game to enhance students' writing skill of recount text : an experimental study at the eighth grade of SMP Assuniyah Cirebon in the academic year of 2017/2018. Undergraduate (S1) thesis, UIN Walisongo.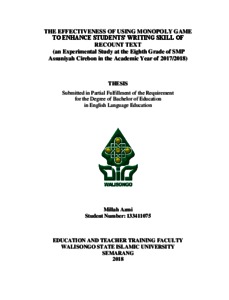 Preview
Text




SKRIPSI FULL.pdf

- Accepted Version
Available under License Creative Commons Attribution Non-commercial No Derivatives.
Download (7MB) | Preview
Abstract
The difficulties of the students in writing recount text are a lack of vocabulary and students did not know the grammatical pattern of simple past tense. The objective of this study is to explain the effectiveness of using Monopoly Game to teach students' writing skill of recount texts. The design of this research is an experimental study. The setting of this research is SMP Assuniyah Cirebon in the academic year of 2017/2018. The subject of this research was the eighth grade students of SMP Assuniyah Cirebon. The number of the subjects was sixty students from two classes, namely class VIIIA as an experimental class and VIIIB as acontrol class. The technique of collecting data was gotten from test and documentation. In this research, the researcher can get result of taking a pre-test and a post-test. The pre-test average of an experimental class was 50.33 and the one of the control class was 47.40. However the average score of post-test for experimental class was79.13 and control class was 67.50. The obtained t-test with α = 5% dk = 30+30-2 = 58, the result of computation obtained tvalue = 5.598 and table=1.675. Based on the result of computation above that tvalue >ttable (5.598>1.675). So, Ho was rejected; Ha was accepted and there was a significant difference average between experimental and control classes. T-test score was higher than t-table. Based on the finding, researcher assumed that monopoly game is effective medium in teaching writing of recount text at the eighth grade of SMP Assuniyah Cirebon.
Actions (login required)
Downloads
Downloads per month over past year