Al-Hidayat, Muslim (2017) The effectiveness of using class talk show to teach simple past tense : an experimental research at the eighth grade of SMP N 23 Semarang in the academic year of 2016/ 2017. Undergraduate (S1) thesis, UIN Walisongo.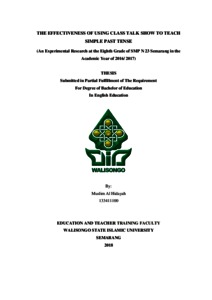 Preview
Text




skripsi full.pdf

- Accepted Version
Available under License Creative Commons Attribution Non-commercial No Derivatives.
Download (5MB) | Preview
Abstract
The objective of this research is for exploring the degree of the effectiveness of using "Class Talk Show" to teach simple past tense. The subject of research were eighth grade students. The total of them is 261 students. The research method was an experimental research which involved two classes, they were the experimental class and the control class. The VIII A class was chosen as experimental class which was taught by using Class Talk Show and the VIII D class was chosen as control class which was taught by using conventional method. The experimental and control class were given pre-test and post- test. Before giving pre-test, the researcher gave tryout test to IX H class to find out the validity instrument, the reliability instrument, the difficulty level, and the discriminating power. The formula was used to analyze the data was t-test. It was used to determine whether there was a significance difference between students' score of the experimental class and control class or not. Based on the result calculation t-test was obtained t count: 2.411 and t table: 1.671. This shows that t count > t table (2.411 > 1.671). It means that Ha was accepted while Ho was rejected. Since t-test score was higher than t table, it means that Class Talk Show was effective medium to teach simple past tense at the eighth grade students of SMP N 23 Semarang in the academic year of 2016/2017.
Actions (login required)
Downloads
Downloads per month over past year