Asma, Neilidar (2018) Pronunciation's error of segmental features at the eighth grade students of SMP Negeri 18 Semarang in the academic year of 2017/2018. Undergraduate (S1) thesis, UIN Walisongo.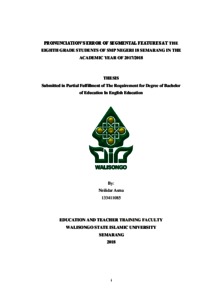 Preview
Text




skripsi full.pdf

- Accepted Version
Available under License Creative Commons Attribution Non-commercial No Derivatives.
Download (3MB) | Preview
Abstract
Speaking English is not just speaking the ideas but also to make the other understand clearly what are you talking with the great pronunciation. Pronunciation is the first and most important thing native speaker notice during conversation. Native speaker more likely understand you clearly even if you are making mistake in grammatical. In this final project, the researcher focuses on pronunciation's error in speaking skill. The subject of the research are eighth grade students of SMP N 18 Semarang that consists of thirty - two students. the researcher took sample randomly. The objective of this research is to analyse students' pronunciation's error of the eighth grade at SMP N 18 Semarang especially on segmental features. The researcher conducting data used case study method and description qualitative which took some steps. First, the researcher observed some information from the teacher and school's staff and the researcher also observed teacher learning process. Second, the researcher interviewing English teacher that consist of pronunciation's error. Third, the researcher gave record by speak a loud sentence on chapter three of eighth grades' English book and the researcher analysed which one the pronunciation's error of segmental features. Based on finding, the researcher found students hard to produce sound of /ʌ/, /eɪ/, /aɪ. and /dʒ/, /z/ /ð/ for the consonant.
Actions (login required)
Downloads
Downloads per month over past year