Aufa, Muhammad Muzakki (2018) English language teaching and learning for young learners at SD IT Cahaya Bangsa grade of SD Mijen-Semarang : a study at the fifth IT Cahaya Bangsa Mijen Semarang in the academic year of 2017/2018. Undergraduate (S1) thesis, UIN Walisongo.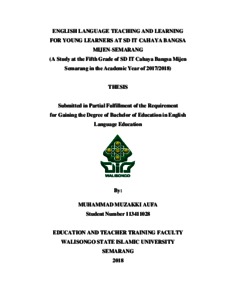 Preview
Text




Muhammad Muzakki Aufa (113411028).pdf


Download (4MB) | Preview
Abstract
The purpose of this study is to explain the English language teaching and learning for young learners at the fifth grade of SD IT Cahaya Bangsa Mijen Semarang in terms of English teaching materials, teaching methods, and learning assessment. This study used a qualitative approach because the data were analyzed using sentences. The data were collected by three techniques:
observation, interview, and documentation. Descriptive qualitative analysis was used to present the result of study in the form of descriptive explanation. These descriptions were analyzed based on the principles of English teaching and learning process in young learners' education. The result of this study showed that there was a certain lesson plan which arranged by the teacher. Language materials were covered in the textbook which was provided by Yudhistira Publisher. The textbook was designed specifically for young learners. Several teaching and learning methods were cooperative learning, problem solving, audio lingual method, grammar translation method, total physical response, and direct method. The English learning assessments were test and non-test. Questions were true false questions, matching questions, and multiple choice questions. Non-questions were checklist and rating scale. One of young learners characteristics is play loving so that they need more attention from the teacher to organize them in the class. Teacher must give more attention to the students, who do not focus on the learning activity. Hence, teaching and learning process can be done clearly and the learning purpose can be achieved.
Actions (login required)
Downloads
Downloads per month over past year